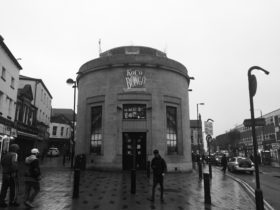 To Wakefield
20th October, 2017
I make my own way back to the hotel after the Glee, amazed to find no restaurants open after 11 in Chinatown or anywhere else. I overhear some lads looking for a club saying "Too many Asians". Maybe they'll find Club Dick. The city is magically atmospheric in fog, the new towers and cranes disappearing into the cloak of the sky. I peer down from my room at this marooned town, taxis crawling through the streets like U-Boats, buildings reaching down into the murky sea, and feel complete contentment.
We leave at eleven and are soon spat out of Birmingham into a rainswept England, joining the trucks in their endless slog. The lane dividers pull us forward, we're trapped between the stitches on a seam. Our usual routine is observed; some sleep, some speak on phones, some clamp music onto their skulls and drift somewhere else. I'm tapping, tapping, tapping like an anxious nun with her beads and bible.
Wakefield is swimming in gloom when we arrive and the venue is one of those loud black rock boxes once ubiquitous in the 1980s. Backstage is built for small children and despite many warnings both written and verbal, I manage to career into one of the many low hanging beams, sending me into a fury as blood oozes from my crown. Mr. Rennie and Mr. Johnson are on hand to supply towels, ice and medical advice. Once the bleeding has stopped I explore the environs. There's a church whose bells make a pretty peal, a cocktail bar called Koko Bongo and a hairdresser's called Charlies, possibly run by right charlies. I fritter away some minutes in a chain book shop, uninspired, damp and vacant. Nothing strikes my fancy for I fancy something striking. On leaving the hotel for the show I overtake a twenty-something couple departing for a night out. Him: "Where d'you fancy, love?" Her: "I fancy a BAR." Him: "A bar it is then, love." Her: "I love bars. They've got all the boozes."
The stage sound on the gig is unpleasantly loud, making subtlety impossible. The audience gamely goes with the flow. There's some chat back and forth and enough amusement to keep both sides involved in the whole affair. Back in my dim room I read about the catastrophic decline of flying insects. Children are in extreme distress on the Bangladesh/ Myanmar border. Democratic participants squabble about Brexit on Question Time. The plane's going down, the cockpit's in a panic, the cabin comatose on cocktails.