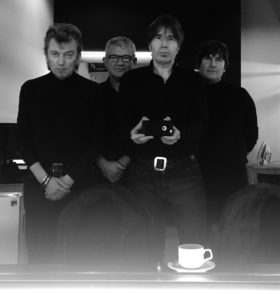 To Norwich
21st October, 2017
We snake towards the motorway through Yorkstone villages, passing a vast estate. The aristocracy are everywhere, like rats or Nando's. The leaves on the trees and bushes are hanging on, Ophelia having achieved only partial defoliation. The general aspect remains green. We drive between hawthorn hedgerows enclosing rural England's endless quadrilaterals. We sweep past place-names; Wittering, Stibbington, Water Newton along the river Nene. Lorries in their corporate livery make walls around us, we're doubly hedged-in. I swig some water from my canteen, and a late Hockneyesque copse flies by. Outside Stilton I see an army of dumptrucks flattening a field. Maybe they're building a massive post-EU cheese empire. We are just a few miles from Denton where Iain Harvie and I did a few weeks of writing sometime in the zeroes. One fogbound morning I awoke at six o'clock and looked out on a white horse standing on its hind legs, snorting and cavorting like an equine athlete in its paddock. I'd like to see that beautiful, lonely horse crash about in a palace or a parliament, unbound.
I'm listening to Mark Kozelek's new record, a collaboration with Ben Boye and Jim White. He rhymes Australia with genitalia and mentions his cat quite a lot. He's probably a genius. He writes so many lyrics and releases so many albums it's like he's chasing a record. Currently held by Mark E Smith.
After soundcheck we go round the corner to a US style mall, all chain restaurants and bowling alleys. I buy a ludicrously expensive ticket for a film. It's not like they even have to lug an actual film around anyway – they just stick some digital cartridge in the wall and press "play" as far as I can tell. I've heard they often use the wrong lenses – that's why so many movies look too dark at the pictures. There used to be a projectionist behind you at every showing. Now there's a robot called Sean. I've seen films shown with the wrong lenses, the wrong frame ratio or completely out of focus. No one ever bothers so it's me who has to trudge out to the foyer. They're happy with their lot, the thick British fucks. The movie doesn't grab my attention and I nod off a few times. Touring involves both making and killing time. This is supposed to be killing but is more of an ugly maiming.
After the show I bump into two of Dodgy in the loading bay and we chat about A&M and gigging. They're doing an acoustic thing while their brilliant drummer, Matthew Priest, is playing with The Icicle Works, a job once done by the amazing Chris Sharrock who's now with Noel Gallagher. Chris played the drums on Twisted like a cross between Keith Moon and Mitch Mitchell. Dodgy made a fantastic album with DA's first producer, Hugh Jones (AKA The Man Who Taught Us Everything). One of the worst album titles of all time, though: Free Peace Sweet. Even the Small Faces would have rejected that. Or The Rutles.
Morning brings the pale blue coruscation of a clear day. It's a travel day and we're going to attempt 4 hours non-stop. No chance with these ageing bladders. A DVD goes on, a rockumentary as it happens. I've seen it before. I've seen them all before, I've seen it from a distance and I've seen it up close – it always ends in diminishment and death.