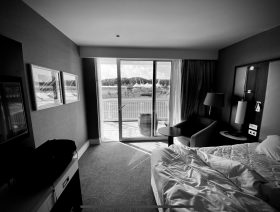 To Southampton
20th October, 2021
We park up outside the front of the Guildhall and head to catering to discover our chef Sarah has broken her wrist, slipping on a leaf. Not a salad leaf I presume. She'll be flown home to Glasgow tonight. We say goodbye to her before the show. I meander along to a vintage clothes place I remember and buy a velvet jacket and two cravats, though I think my cravat days may be behind me. Neckwear is very ageing on old men and unless you're some stylish Italian silver fox, scarves and such can make you look like a grandpa. I spot two of the crew having a sneaky pint while they wait for the venue sound curfew to lift, the students in the area easily disturbed by the thump of a drum and the chime of a guitar. I join them for a few moments but we're all too tired to talk. I take coffee in a local joint, avoiding the chains crowding around it, and munch a little Portuguese tart, devil that I am. The walls are adorned with historical murals depicting local events from the distant past. Viking invaders, Henry II and a block and tackle all illustrated in garish colour in what can only be described as the primitive style. Later I step into the John Hansard gallery a few doors down and watch some lovely film pieces by Hetain Patel. I don't usually hang about for very long with video installations but the shorter two this Trinity I watch in their entirety even watching one twice. It helps that they've been lavishly produced and are sympathetically scored, but they're moving and original. The other viewers seem impressed too and all remain for their duration.
After the show we drive to an out-of-town hotel with a funny name. When I open the French window in my room I find I have a substantial balcony lending a commanding view of a brand new cricket stadium. Iain sends me a text reading "How peculiar". I sit on the lawn furniture munching a bag of nuts, gazing across the grass bowl as the rain drips through the stands. I feel like I'm in a very English version of the end of Blade Runner.
By midday the rain has cleared and there's pale blue between great white ships of cloud. We're running up to London and running out of road.