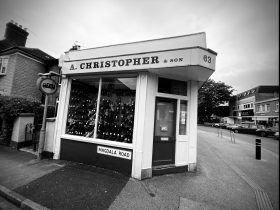 To Southampton (When Will Bingo Die?)
19th June, 2022
I'm to be limo driver this morning as the Glasgow taxi landscape has become increasingly unpredictable since the pandemic hit. Four of us are airport bound from the west of the city so I gather all up in my creaking ride and in no time we're jumping out on the roof of the multi-storey in the June sunlight. The airport is humming with holidaying humanity but pretty calm and security isn't too fractious. I buy reading matter and a vessel of water in an automated process that is alienating, forlorn and brutal. Hardly anyone is masked despite the virus numbers being alarmingly high and reinfection with new variants rife. I have on my N95 respirator which gives me a comforting sense of (misplaced) protection. I take a seat in a remote corridor and regard the hordes as they drift through the turbid air in travel stupor. The mingled scents from the duty free maze form a toxic miasma under the strip lights. Music from a nearby catering concession echoes around the white plastic walls in a gloomy reminder of good times being had anywhere else but here. We all want to be where we're going, no one wants to be here; in transit like goods at a depot, barcoded and waiting for our slot. Many opt for the beachwear approach — shorts and sandals as if the airport is a mere annexe of their hotel, the flight a mere walk to the coast. Sitting in a plane at 28,000 feet in such clobber always strikes me as absurd, like seeing a bloke waiting in line in the bank in snorkel and flippers. But why not? It's all a temporary denatured environment. Why not wear a fucking leotard or a dressing gown? For years I wore a suit and tie on planes as a sort of ritual. It gave the whole palaver a satisfying formality and folk used to compliment me on tourist charter flights, as if I'd dressed for dinner a little early and they respected my making an effort.
We pile on to the little Logan Air jet just before 11 AM amongst what appear to be commuters. I have a window seat and peer out at the banal scene, the aircraft making various industrial noises as it goes through its pre-flight checks. We taxi out to the airfield in glinting sunlight and for a moment before the turn I see the runway stretched before us. Then the rush of the push, the bump of the wheels and the lift — and there is Paisley below us like a model in a museum. In minutes we're impossibly high, beyond the altitude of any mountain I've climbed, tufts and bushes of white clouds swimming beneath  us like fat fish. Up, up between the strata to the blue beyond, the engines' cacophony yawning through the vast pile of sky. We climb through a milky fog and with a gentle shudder reach the clear air of cruising altitude, the earth now a map, an abstract pattern in soft greens and pale browns.
After resting my head in my hand for a few minutes (in that pose of extreme remorse air travellers adopt) I crack my eyelids to see a contrail seemingly yards above my head cut at right angles to our trajectory. The plane at the trail's head moves away from us insanely fast and for a moment you have a physical perception of how quickly these objects are hurtling through space. The tailplane mounted engines behind my head moan and whine and we start our descent through a soup of blinding mist. We rattle down through shreds and fogs buffeted and blind and I gape downwards waiting for the dark contours of land to loom in reassurance, the engines' volume deafening now as we bump and weave through pockets and updrafts. Then a smoothing occurs as we find clear air between cloud layers and the craft drops inexorably as the fields below enlarge and spread. The ribbons of roadways appear, then farm buildings and houses. The alarming frequencies of the jets moderate and de-escalate and we hit our final approach, the flaps stretching and saluting on the wing outside my window. We take a steep turn at the coast, boats' wakes arrowing in all directions in the sound below. I see a vast cruise ship berthed at a quay like a lost city, the tall cranes at the docks, St Mary's football ground, a shady graveyard, a motorway and — bang — we land, a ship from the milky gloom come home to rest.
The hotel being on an outskirts interchange I hide in my modern little box room for a few hours with (in a tribute to The Go-Betweens' Grant McLennan) the New York Review of Books for company. I read about the composer Alban Berg and relax to some of his pieces on my phone. Around six I gingerly explore the somewhat pitiless environs, dropping into a garage shop for snacks and shoe polish and winding along the local Cosham high street with its tattoo parlour, vape shop and both Poundland and Poundstretcher, a shop I once stood outside stretching a pound note to literally my own amusement. There's an unpleasant gale whipping through the neighbourhood stirring up little eddies of rubbish like toytown tornadoes. At the end of the precinct stands a sizeable old cinema, inevitably now a Crown Bingo hall. When will bingo die?  And when it does what will fill these former picture palaces? Zumba on MDMA?
Cosham is quintessentially English. Three fish & chip shops, a barber, an old-fashioned shoe shop, a few pubs bedecked in union flags, a Chinese takeaway and a Portuguese deli. Down the road a McDonalds, crouching in its moss green and beige camouflage, waits to catch kids and spit them out fattened for a future war.
In the morning we drive through a deserted Portsmouth to the ferry terminal. I take a seat on the tiered viewing deck. Signs tell me it's a Panoramic Viewing Lounge. It's like a little cinema showing the widest-ever-screen film of a boat trip. It's a good film. Slow but extremely well shot. We turn between the 19th century circular Solent Sea Forts, ugly low structures resembling guano splattered Victoria sponges. I feel the propellers churning through the shallow channel, the ship shuddering like a maiden aunt. The sea is turquoise. Speedboats bump about between pretty dinghies. The Isle of Wight lies shimmering ahead resembling a remote Pacific atoll, with its low-lying canopy fringing sandy beaches. The light doesn't last long and the sky grows grey and I fear for our fortunes today.
Because we're so far down the bill we get to the Isle of Wight Music Festival site very early. There are a few tired looking security and production staff on the way in and the whole place has yet to wake up. I take a tour, walking round the perimeter at the back of the big main stage and beyond the barriers to the public space — a large gently sloped and well-drained grass arena. All very pleasant, I think. I navigate the various security checkpoints to a VIP bit where I have tea and carrot cake under a little tarpaulin hung from a caravan as it starts to rain. Quite heavily. Hmm.
By the time our early afternoon slot comes around the skies have lifted and lightened. The organisers have recruited hi-vis vested cheerleaders at the front barrier and I'm amused by the swaying and clapping they elicit. It's fake but fun. I find myself enjoying the experience. Big stages during the day are so surreal. You're on and off in a flash and the sound is always so strange, odd parts of the arrangements suddenly blowing about and bouncing off bits of tarpaulin. Mumble, mumble, mumble SNARE DRUM mumble, mumble, mumble WEIRD BASS NOTE mumble. I catch half of the Mavis Staples set, that harrumphing, hoarse, soul/gospel goddess.
On the ferry back to the mainland I sit on a high deck astern, overlooked by the bridge. The Solent is studded with its ships and forts and I gaze abstractedly into our foaming green wake. The island beyond with its serried trees is a crepuscular green, the sky a stir of silky grey. We saw the South today and it was as mellow as a pint of Mild. But there's a bitter fight in these parts too, between power and powerlessness, privilege and voicelessness and the ubiquitous question of regional identity. Who are we? Beware any and all who claim they know.