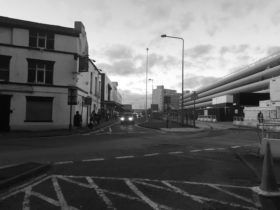 To Preston and Nottingham
29th October, 2017
Bristol, goodbye. Not a cloud to be seen, October at its most beautiful and here we sit, strapped to our thrones in the Grey Toupee. Mr. Johnson is a little late but forgiven, it being his first offence. One more and he'll be hung drawn and quartered on the gallows of group ribaldry. We hit traffic outside town. This looks like a long Friday on the motorway system. We pull free and puffy white clouds appear in the pale blue like the credits of The Simpsons. Stupidly we're going back north, to Preston, retracing our route of a few days ago, just a bit further east. The Malvern hills sit out to our left, sun-dappled and moss-coloured. I catch a momentary flash of Worcester cathedral through a brief break in the verge. Tourism in glimpses. We veer further east to avoid tailbacks, going around Birmingham to the north rather than the south. I see a fat plane sinking to land beyond a meadow, the city sunk out to the left. It indeed proves to be a slow day on the network. We crawl through a corridor of lorries past places I've never heard of: Northwich, Congleton, Winsford. The light comes from a low angle behind us now and on either side flat, fertile country slips past, peppered with magnificent trees. I bang on Baxter Duty's new album, King of Tears, at high volume, trying to shift the frustration. We slow, we stop, we start, we slow.
By the time we hit the outskirts of Preston we're two and a half hours late and the sun is barely above the horizon. It's rush hour and we're all restless to get out of the vehicle. At the Guild Hall we throw our gear into the lift, the mob-handed local crew ably assisting. We're up and running in record time and only have to hold the doors for 20 minutes. After check I dash across the street for a morsel of hot food from a burger joint. Before we know it we're onstage, a ridiculous safety barrier maintaining a six feet gap of no man's land between the group and audience.
The morning is misty. We cut east through the Peak District, its grasses yellowing, its hills scored with dykes. The waters of Bottoms Reservoir are black and choppy. Small trees huddle by the roadside, shoulders turned against the prevailing wind. As we rise oncoming lorries' headlights lurch out of the fog. We enter a half-lit netherworld, guided by ghosts of fences on either side. We re-emerge in woodland and follow blue signs to the river of cars, southbound. I take a wander through Nottingham town centre after load-in. There's a mini fun fare in the big square – a ghost train and a lunatic contraption that shoots people into the sky in a spherical cage attached to bungee ropes suspended between two masts. I stop a while to hear the screams, which I find strangely relaxing. After dark I sit in yet another corner cafe surveying the Saturday hordes. A sleek tram slides up the hill like a friendly eel. The chatter around me is multilingual and chilled. I scoff a cotton-wool muffin and take a call from a friend from home. I can't decide if I want to return next week or not. I take another stroll around. The monstrous revellers are emerging in Halloween finery, it's all comfortingly trippy. I stumble into a Rough Trade, having had no idea there was an outlet here. I feel like I'm stepping into Williamsburg in 2014. I flip through some vinyl racks without much excitement. Too heavy for my bag and my wallet. Outside a warm wind whips up, the Atlantic boiling and stirring way out in the western night.
It's a good show(by all reports) and the few hundred in attendance are forthcoming, vocal and sympathetic. The group seem particularly enamoured. Later on we put our watches back. We've made it to another winter. The sun is out when I wake up, flooding the land with a pitiless light and we go south for the last leg after saying goodbye to Mr. Pringle, who is leaving us. I gaze moronically out from the Grey Toupee at emerald pasture studded with cattle, passing through Britain's guts, heading for the synapse of another city.