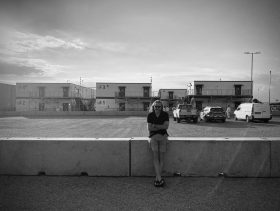 To Ostend (We must go on)
28th August, 2022
The tour bus is waiting for us in a bay right outside Terminal 5. It's a double-decker with a trailer and decorated in the usual European style — half Blake's 7 half super-yacht. Maybe not an oligarch's but certainly a high level drug dealer's. There is brown and grey leather seating, pink and blue LED lighting strips, and Smeg appliances. The bunk corridor doors are panelled with studded leather. The crew cram the gear into the trailer and off we set for Ashford to pick up the sound boys from Liverpool. I stretch out in the upstairs back lounge and watch the trees float past beyond the tinted windows. I'm in the rock bubble. Unreal, insulated and above all endlessly boring. But we must go on. Late summer clouds fly above like white continents. The bus creaks and gently rattles on its air suspension as we worm our way south. You can lose track of time on tour busses on non-show days. You have no endpoint in the day, just relentless motion. It's hard to be here in all this getting there.
We pull into Sevington Inland Border Facilty where we are to get our paperwork processed. It's a vast tarmac zone hemmed in by vicious razor wire topped fences. We're guided into a space surrounded by tightly packed lorries and goods vehicles. Fuck knows how long we'll be here. Hi-vis clad staff mill about, shuttling up and down the metal gantries and staircases connecting weird military looking huts. There's a patrol vehicle doing the rounds and the driver eyes me with suspicion as I sun myself leaning on a concrete security barrier. This is Brexit. An ugly, unnecessary, colossal waste of time and money. We're in a concentration camp for carnets, those absurdly complicated documents designed to prevent smuggling that caused us such grief in the '80s. I'd like to lock Farage in here, this Hitler holiday hell. Brexit was claimed to be a liberation from European bureaucracy — freedom from the Brussels yoke! All I can see is another layer of purely British bureaucracy; mean and petty, insular and hateful. It's the policy disaster of the century. It was a lie and now we're living it.
It's a beautiful evening in Dover. I sit on a picnic bench on an outside deck at the rear of the ferry facing a scrubby section of the white cliffs. At the end of England I am! — with France at my back and the light slowly slipping from the sky. I'm seated amongst smokers of many nations and I remember the patch on my bicep and feel soothed. Smokers soothe themselves into hospital beds and hospices. Anything to cheat the acid sting of withdrawal. So far today I've been on a bicycle, in a car, on a bus and aboard a boat. If only we were due to ride a train I'd hit the big five. Helicopters and submarines — they're the toppers. It's not much of a deck this, just a little square with a blue painted floor and high Perspex panels. You can't walk around the ship's flanks, they just corral you here. They want you near the shops, see? The lights of Dover wink and recede. The wind blows up in a bluster. I sink below for some scran. Adieu, Angleterre.
The lower decks are deserted and the vibe is surreal and haunting. I have some veg curry with Andy and Jim, the three of us sitting in our little plastic chairs at our little plastic table like daytripping pensioners in Legoland. I wander off to queue at the Bureau de Change, the Office of Change. I finger my Euros tenderly and with nostalgia. A few lost souls traipse around in a daze. A few travellers are asleep on bench seats. It's an ark of defeat. We churn through a still sea and my thoughts turn to the pull of the bunk, my own coffin domain, and the sweet honeydew of sleep.