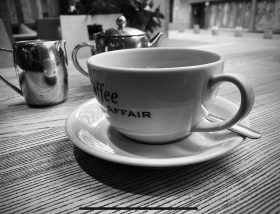 To Inverness
14th October, 2021
We angle northwest through Aberdeenshire's rich pasture, autumn a little more advanced up here, patches of foliage coloured as if touched by a brush. Sheep and cows dot the emerald fields, dark gorse clinging in the ditches. It's not typically Scottish terrain but somehow it couldn't be England either. Parch it all with the Italian sun and it could be Tuscany. We fuel up at Strathbogie and Iain gets out, seeking a copy of Classic Tractor from the shop's array of farming and forestry magazines. He returns with a selection: Farm Machinery (featuring Forestry Machinery), Classic Tractor and Earthmovers. I leaf through the last title, discovering the world of telehandlers, vehicles whose purpose seems to be lifting heavy loads from very awkward positions. Our tour manager informs us they are often used to lift mixing desks out of tricky festival sites. We pass through Keith, getting stuck behind the very kind of vehicle featured in our mags. We speculate it's a crop sprayer. We cross the river Spey — whisky country. A conversation about the relative merits of Speyside and Islay malts ensues, a subject I am only vaguely familiar with, whisky being a fluid generally designed to turn me into a madman. We come to Elgin where I performed with a big band at the brass festival in some nameless year from the past. I remember singing Sinatra's I'm Gonna Live Until I Die, a killer swing number from his Capitol jukebox years. I'm not dead yet it would appear.
The more miles north we go the more colour in the leaves — straw yellow, ginger and butternut browns. The sun lights the scene with sparkling gaiety. We come through Nairn, another town I've gigged in, with its handsome granite houses and long stretch of beach. Past a piggery we drive, with little huts erected like festival marquees, big white porkers trotting about, then a plant billowing white smoke, turning trees into construction panels. We drive along a boulevard lined with car retailers on our way into the city, bunting fluttering flirtatiously.
Inverness is no oil painting. Town consists of a preponderance of dull Victorian edifices broken up by some truly ordinary five and six storey 1970s blankness. It's oddly characterless and is more redolent of ghastly Fort William, at the far end of the Great Glen, than Nairn or Elgin. I take tea in a joint called Coffee Affair and eat a rubber croissant at a plastic table and listen to tinny plastic music shitting down on me from little plastic speakers. I survey the street scene. Many people under 40 here appear to wear clothes so exceedingly tight that they resemble spray painted naturists. Perhaps they think this is an urban look, the 'Ness being a city and all. Opposite is Mr Simms Olde Sweet Shoppe, no possessive apostrophe but plenty of redundant "e"s. Mr Simms is pulling quite a crowd, nostalgia hunters mainly, it seems. Most people are sporting the sort of hardy nondescript clothing you associate with hiking. The richer middle-aged women sport gilets in the Country Life style. There's a lot of padded items on display. The population around here is remarkably young and I wonder how they survive. Do they all work for the rich country set in some way? Is there a big gilet replacement and repair sector? The music squeaks on in its febrile fashion — canned excitement, frozen ecstasy. What it's for in this context is anyone's guess. I don't see a dance floor. No one is tapping their toes. No one is going to ask for an encore. But if they turned it off we might hear real life in all it's mundanity and drabness, we might feel unamused for a filthy second. We might hear ourselves breathe.