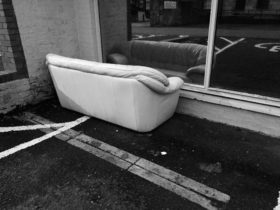 To Edinburgh
16th October, 2017
I come to in my own bed, not yet fully on the road. I set the kettle on its plastic teet and toss a teabag into a stained mug, longing for the antiseptic soullessness of a chain hotel. At the appointed hour I make the ten minute walk to the venue. LOCAL MAN POPS OUT TO ROCK.
I like the ABC as a venue. There were once two vast screens here. It was my favourite cinema. I saw Dune in cinema one and threw my neck out sitting in the front row looking from one side of the frame to the other. Terrible film, made much worse by the acting of Sting. Even World War Two would've been made worse by the acting of Sting.
But the ABC stage is the perfect height, it's Saturday night and the crowd are in fine voice.
I make a fast exit after the show, breezing home through the Sauchiehall Street boozers, all searching for a Saturday fuck or else get fucked up. I'm in front of the TV within half an hour of leaving the stage, scarfing down pasta. The following afternoon we do the quick drive to Edinburgh. Its marked differences to Glasgow always delight. Edinburgh is Scots/European where Glasgow Is Industrial/Irish. It's gothic and mysterious; Glasgow's seedy and Victorian. I admire Edinburgh but I love Glasgow. I nose about the environs seeking hot sustenance. On the way back I pass a tall young evangelist slyly interrogating a Chinese student. His bible lies in his proffered hand like an invitation and I hear him intoning to her the joys of church attendance. I have a sensitive radar for these types and give them a wide berth. Caught in their gravitational field I'll only be vicious or cruel. I pity their delusion but abhor their obsession with imposing it on others.
Mercifully there is no barrier at the Queens Hall, nor an apostrophe. This means the front thirty folk are pressed up to the lip of the stage, like gigs in the '80s. It's a very intimate thing – they're almost onstage with us – but we feed from it. Eyeball to eyeball we do not blink first.
I chat with family and friends post-performance before rolling home through the still night. We cast and crew are tired, still acclimatising to the touring tempo. In the morning I'm grumpy with lack of Zeds. Get me on that road. Take me to where I'm wanted. Let's blow this town.