To Chicago, 24th September 2014
25th September, 2014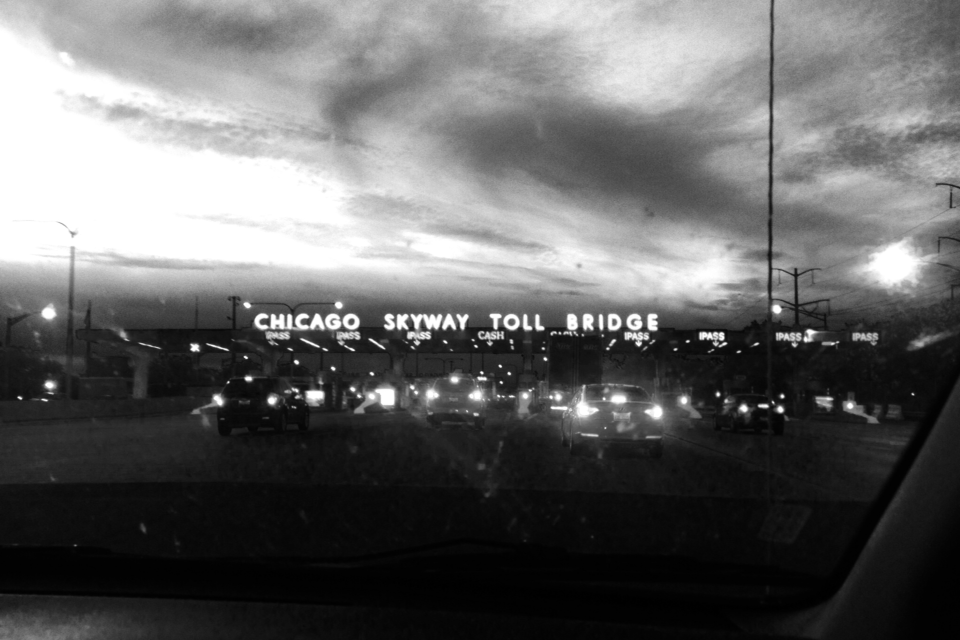 We escape the clutches of the city early in the morning, all the heavy traffic on the opposite carriageway. Once through the gauntlet of New Jersey's chemical industry we're in the endless woods of Pennsylvania. Fall is in first flame, the yellows and russets spreading through the forest like a rash. Coming around some bends the whole horizon is afire in the angled morning sun. It's nearly four hours before we see a clearing – a farmstead set in an emerald meadow. The route has a mesmerising monotony. It's a kind of Appalachian Amazonia. We stop for breakfast and luxuriate in the changed pace, the rural folksiness, the twang in the accents. In a matter of hours we have arrived in a different universe still confederated under the same oath and flag.
Road and more road. To get across Pennsylvania alone it takes six hours. In Ohio the woods thin out and the trees stand a little taller. I play a selection of relevant tunes as has become our custom – The Ohio Players, Randy Newman's Dayton Ohio 1903, Gillian Welch's Look At Miss Ohio, The Blue Nile's Toledo, The National's Bloodbuzz Ohio. Earthly delights to help us on our way. The mind bending expanse of the States never fails to induce awe and excitement. No sea stands between us and two thousand seven hundred miles of road. You feel you are in relentless pursuit of somewhere in the midst of perpetual nowhere. Arriving at the great cities at night, the skylines like beacons, is revelatory. They rise like angels in the darkness offering succour in the shape of booze and bed. I feel the magnetic field of Chicago dragging us onward, its bars and burger joints calling us in.
It is a trendy hotel. For which read shit with stupid quirks. Chalk for a blackboard on your door so you can write Do Not Disturb or Sedate Me. A branded dressing gown and a pretend dining table that just takes up space in the tiny rooms. I don't see Mr. Niz or Mr. Fudge in the bar which is horrible anyway so I scarper. A homeless man compliments me on my glasses which are pretty hideous and affected in themselves. I buy a Streetwise Chicago from a fat man pushing a cart. We are in the corporate north, there's no craic, no shake and shit all to see. Boy, am I tired after the 13 hour ride. I'm going to crawl into my boutique hole and stare at the ridiculously oversized TV. I read the Big Issue-style magazine over dinner in a tapas place. The world is one long crime committed against the poor and disempowered. The world is a viscous sin. We, the rich, are bent on its destruction. And none of feels the chill.