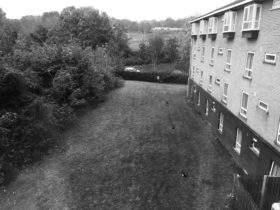 To Cardiff
24th October, 2017
Farewell Holiday Inn, sterile lodge on the edge of town. Today's route takes us directly south along A-roads edging the English side of the Welsh border. Wales is unknown to me. I have no pictures in my head that swim into focus at the mention of its name. All I remember is ferry ports, Cardiff town centre and a brief sojourn to the Pembrokeshire coast. I can't tie it all together to make a whole. In the 80s we frequently played Treforest, a student gig on the circuit. From there we were sent to Betty's – "the best curry house in Wales". This was a squalid cafe that served boil-in-the-bag gruel served by a woman about as Indian as Brad Pitt. We did a TV show in a former mining town in the zeroes where we met Travis, who were terribly young and sweet like tender-stem broccoli. I think this was in one of the valleys of romantic repute. I know they have mountains somewhere but I've not seen them. I think they only pop up when the English leave. Cardiff was the site of one of the best shows me and Mr. Nisbet did as a duo, until I blew it all at the climax by forgetting the words to the third verse of No, Surrender. I feel like I owe them something but a Monday night in October might not be the time.
We churn on down the line, English names predominating on the green road signs, Wales to our west on the right. There's still not much evidence of autumn rust, a little yellow here and there. Somebody was taken ill last night during the show. All we saw was a kerfuffle near the front. We heard later that a man doing chemo had fainted. I was watching like a hawk in case it was a fight – you wouldn't want to play through violence but a swoon's fine. I'd draw the line at a gash to the head. The bouncer dealt with it pretty efficiently. Good luck to the cancer man, you saw the best bits anyway.
Gulls and wood pigeons pick at a ploughed field as the Shropshire hills lurk away to our left in strafes of cloud. We ease through villages sewn tight along the route. This is pretty country, not unlike Scotland's western Borders. The names around here are militantly exaggerated in their Englishness: Church Stretton, Bishop's Castle, Kingsland. Mist rolls off the hills as a pale sun drains through, the gentle slopes studded with oak trees and farmsteads, verdant and inviting. I see from my map it's designated an Area of Outstanding Natural Beauty, which takes the shine off things. There's nothing more off-putting than a committee telling you what to think.
South of Ludlow the landscape flattens out. Fields of Friesians, potatoes and sheep stretch out among beautiful trees. Those ubiquitous bales of hay lie like huge Swiss rolls in undulating pasture. Rural England is resplendent; we're a thousand miles from John Cooper Clarke's Beasley Street. We pass through Hereford, getting a fleeting glimpse of its quaint-looking centre from the ring-road. Rock is a purgatory of ring-roads, bypasses and loading bays. The Cardiff hotel is crouched in a dip on the outskirts, opposite some high-school playing fields. My room is freezing and feels long unoccupied. I plug in my portables and hey presto – insta-home. I have most of my record collection in a small brushed aluminium device. It's permanently set to shuffle and throws out tunes like an insane party guest on a cocktail of speed, champagne and Valium. It's an education. And what does it teach me? I probably have too many Fall albums.
The venue, The Globe, is a converted cinema – another punchy little rock gig. Like last night it's a dive but a dive on a Monday night can be a grim thing. After soundcheck I walk around the neighbourhood, mooching around a couple of depressing pawn shops. Power tools pawned – that's rock bottom. I cram some hot food in a cafe/bar. The area is redolent of a French port that never recovered from the war. I notice how short most folk are, like Glasgow. How can such a soft border make such hard divisions? I pass some schoolboys wearing rugby club regalia talking in uber-posh accents. They're like the officer class in the days of the Raj. It's now all a matter of killing time. The period between soundcheck and show is a chasm of listlessness. Mr. Nisbet calls it "the heroin hour". Night falls. I buy some pens and do a quick crossword in another bistro, this one catering for a more well-heeled crowd. But time crawls like a sloth. I watch the customers order their drinks and monitor their muted early evening chat. INXS, U2 and Don Henley vibrate gently from a speaker somewhere. The staff are at least half the clientele's age. The patrons have day jobs, I have a gig and the kids scrape along in the gig economy. I hear some cocktails shaken sullenly. Maybe I'm stretching it a bit, sitting here for an hour with a two quid pot of tea. It's time to wait somewhere else, kill time in a different place. I spot a speciality tea joint across the street and order some "Highland". I always suspected this chai nonsense as hippie guff but my cuppa is very good. The girl behind the jump is training up a Spanish girl, telling her all the secrets of tea. These, it has to be said, are not the most earth-shattering. I don't think the Spaniard is going to last. More tinny music emanates from above, pure pop here, the decade unidentifiable but post-97. All pop went to rot after Blair. Then they axed Top of the Pops and killed its variety stone dead.
Back at the dive I do a few cursory warm-ups and we're up there in front of a busy little room. It's a crazily loud venue with a big hard back wall behind the drums but the (weirdly tall) punters get their voices up above it all somehow. A miracle for a Monday. I hope my debt is paid.
My dreams are twisted and boiling with frustration. There's a maid clanging about in the room opposite. I watch her quizzically through my spyhole, thumping the empty kettle down on its base, slamming drawers, throwing things onto her gurney. She's a slender, resentful angel of doom and I can't blame her. This world is a pit of injustice and our overlords are laughing.