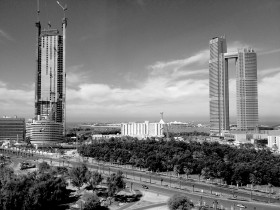 Stamford, February 15th 2013
16th February, 2013
I have lurched from the desert to the frozen north. Leaving the Gulf last week I had visions of handbags on fire, buried minions dug up and displayed in future museums. These men died building towers now ruined, airports since vanished beneath the sea of sand. Emirs, Sultans and Kings: born to rule over those selected to serve. I played pretend palaces and Vegas-style hotels. I served my sorry time. I bought some fags, came home and torched some Camels. We're burning up the world.
Scotland is shining under a flat white disc of sun. Stray patches of snow streak the bluffs atop which fresh ranges of turbines flower, turning in slow motion. Driving south we see a black military transport plane veer around the corner of a gorge like a fleeing vampire. Nestled off the road lies some sort of rocket launcher taking practice pot-shots. Nobody has a job but they're still rehearsing for a war. Never mind the North Koreans, it's them French I don't trust. With their horse meat baguettes and perverted films, stinking up the place with their perfumes and cheese.
We aim for the A1, the crème de la crème of roads, connecting the two capitals. We take in hill country on our way to the wastes of Lincolnshire where, as the landscape opens, spires sprout around us from village thickets. Christ's columns calling acolytes from the farms. Clouds close their palms across the beaming sun and we plough into a tailback. The relentlessly avuncular Radio 2 spits hissily on the stereo, pop aberration after pop aberration. We'll look back upon this era as the age of poisoned music, adulterated with auto-tune. That phased squeak is the hallmark of lazy producers. Set fakers to stun and move on. We've been overrun by the Cadbury's Smash spacemen, warbling and warping the nation's pop so that everything sounds sung through the nose, stingy and sneering and slightly hysterical. Cartoon voices for a country of cretins. Rise up cretins, rise up.
Stamford is picturesque, historical and built from that lemon cream sandstone that glows like gold in the winter sun. It is all that the Gulf was not and that isn't a compliment. I see only white folk with their grim pampered faces as they emerge from luncheon to browse the local tat. I size up the scene hastily: antiques, wine and highfalutin wallpaper shops lurk amongst the lanes. Too rich for me. Looking at the list, this looks like the posh tour. Thank the Lord I brought my collection of cravats.
I retire to my apartments after the show. Dave, the sound guy, is next door to me. His room is called "Pride" while mine is "Prejudice". It's the little things that make life worth living.
I tap at the keys and listen to music. David Garza's Only Fire comes up and stops me in my tracks. I listen twice. It has five stars on my stupid device. Weariness creeps over me and I eye the enormous double bed. Hotel living, that extraordinary luxury. The street beneath my window is empty and dark and still. I can gaze into a black field from here, its rich English soil sticky and glistening, alive with turning earthworms. The burning handbags recede from memory, Jerusalem is still being builded here.