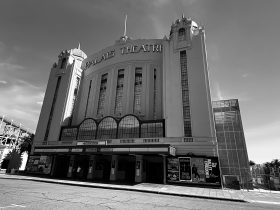 Show day, Melbourne
25th February, 2023
I have a stormy sleep and wait in the morning for an interview that never happens. I tap at my laptop for an hour immersed in the simple task of admin. My friend Stephen from Hong Kong gets in touch and we have a Vietnamese lunch down on Barkly St. He explains some things about the post-Covid economy in China. I'm beginning to understand how far away from home we are here. On the other side of the world someone I know is in hospital and another is in a morgue. It's thirty one degrees in Melbourne and nothing makes much sense.
I have a coffee and an ice cream in a shady cafe after a quick soundcheck. I notice what look like toothpaste stains on my black T-Shirt. I'm a grotty old codger in poorly cut-off jeans. A Scottish woman I met in Adelaide comes up and offers me a drink. I have to remind myself I'm working. It's not working weather. It's too hot to walk very far so I sit and stew. Evening traffic trundles by as people parade their pampered pets. I savour my rum and raisin.
The show has a weird little adrenaline edge I like. The venue feels Hammersmithesque, the sort of place you imagine the Fabs playing in 1964. The Scottish woman is in the front row and every time she stands up to dance a security guy walks down the aisle and, humiliatingly, makes her sit down. Eventually another woman from near the back of the stalls stands up and tells the guard to desist and walks down to tell the Scottish woman she's free to stand. It's sweet and comical and makes me laugh through the next few lines. The woman at the front stays on her feet for the whole show. The rest eventually join her during the encore. She appears at breakfast in our hotel the next morning and appears to have bought half of the merch stall. Top marks.
We pass St Kilda's pretty two storey houses on the airport run the next day. Each one has a unique filigree design on its balcony ironwork. Gum trees and palms supply ample shade. Later the jungle of glass and concrete flows past our right hand side window, a skyline without signature or anchor point. It's a jumble of faceless edifices with no discernible plan as if someone's unleashed a gang of drunk architects on an innocent city. There's a bit of a delay getting our pre-paid extra baggage processed but the carnet goes smoothly and we're free to walk the long gauntlet of perfumes and handbag emporiums to our gate. If it was your first time in an airport you'd think you'd taken a wrong turning into a shopping mall. It's a honey trap of useless luxury and impossible to navigate quickly without getting lost in an aisle of extortionate trash. The plane has to wait at the stand for passengers from a delayed inbound flight. They file on looking immensely fatigued with lots of young kids in tow. For their sake I hope this is their last hop. Me, Kris and Iain have lucked out with a row behind business that has a yard and a half of legroom. Small mercies make flying bearable. We taxi to the runway through the battlefield of baggage wagons and service vehicles. The grass strips between the planes are bleached pale yellow in the late summer sun. As we pitch up and bank right the dry sward stretches out below, rectangular plots planted with seemingly nothing but dust.