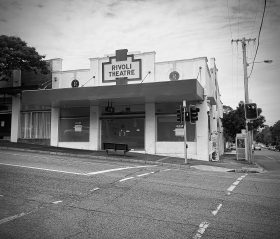 Show Day, Brisbane
22nd February, 2023
I have an epic sleep – 2AM through to midday with only one stop for defuelling. I potter about with some emails and head off out. I aim for Story Bridge but I have no ambition to see anything. I'm going to weave about randomly. I step into a record shop for a bit, buying two things – Roberta Flack and The Impressions. Second-hand record shops are weird. No matter how long in the tooth, you always feel judged by the expert music geeks behind the counter. It's always one or two blokes in obscure band T-Shits and they're always about 48 and haven't seen daylight since 1986. You wonder – do they think I'm a wanker, a dilettante? Am I betraying naivety in my rack riffling? Will they secretly scorn my pathetic selection? Ha! The fool has bought the dodgy Canadian reissue!
I take a river stroll along the boardwalk vaguely thinking of eating but not fussed. It's pretty hot. I walk through what seems like a mile of a single establishment called Felons. There are hundreds of tables around several huge bar sheds strung one after another along the Brisbane. It's a craft beer cattle market. I spot an elevator scaling a sandy cliff that takes me away from the waterfront. I find myself in a salubrious residential neighbourhood that reminds me of San Francisco with its clapboard houses and wide hilly streets. Round and round I go seeking nothing but the killing of time. The sun beats down onto the crown of my head and a hot breeze shimmers through the hair on my forearms. There are the exotic aromas that come with proximity to the tropics.
I walk back to the hotel after the show in the warm night air. Not much happening on the streets, a few people under thin blankets in doorways. I have a ragged sleep dreaming of miracles which dematerialise on waking. I peer down from my sleek box at the old cricket ground. I sense the mounting heat on the other side of the glass. I do some old man exercises before repacking my bits. We swim smoothly through the airport to the gate, the emu cranes arrayed on the horizon beyond the tarmac and tree line. Clouds, blue and white like mountains, bank above a heat haze. We embark in a shuffling line – stow, sidle and sit. From waddling landlubbers to lords of the air.