September 20th 2013
27th September, 2013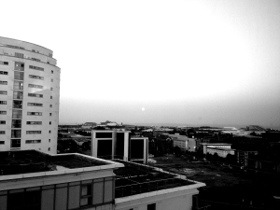 I am again suspended in the air on a fourteenth floor looking out over Bristol, the Avon green and glittering in a great arc around the city below me. People are thronging in the square catching the fag-end of the summer warmth. I venture abroad and order a burger at a dockside bar and crane my neck out over the water to catch precious rays on my face. Light ringing, light singing, spilling everywhere in splendour.
The end of the road has been reached, last stop Glasgow tomorrow. The phone has been quiet these last few days, phase one completed. Then there is another video to make and hopefully a little more plugging and pushing to do on single number two. And onto the reunion and my reacquaintance with the bass guitar. There's only four strings so why worry? That's a whole two strings missing that you can't make mistakes on.
I prevaricate over whether to go and buy myself a clean new shirt but decide shopping is no way to spend my last day on the road. I shall have to continue to emanate a musty odour – staleness, dampness, itineracy. It's nothing that can't be masked with aftershave and lager-breath.
The venue is the Colston Hall's little room – the hall across the corridor is the big room where my old band will play in February. I have a look in after my soundcheck like a humble kitchen porter checking out the grand banqueting hall.
Back at the high-rise I attend to internet things and reply to messages on the following platforms: email, Viber, SMS, Twitter and Facebook. Why all this crosstalk? What is the goddamned point other than raising the share prices of the corporations that own our words?
I do the gig, which proves to be a concert. We all make a concerted effort. Somebody calls time so we leave. The city of Bristol still rings, sings under my tower-block billet. Tricky, Portishead, Martina Topley Bird: voices from the granite.
I heave-ho out of there in the am, my pristine cubicle soiled by the evidence of company. Fellow travellers. Hand-holders on the way to the sun. People. My people.