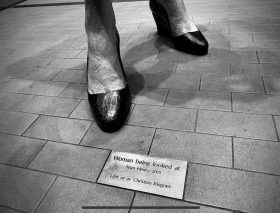 Oslo
13th September, 2022
The bus brings us into town. This is not the Oslo I remember. It's all gleaming towers in the downtown American fashion. Half this stuff wasn't built in the early '90s when we were last here for some promo nonsense. But it's a relief to be in an urban environment. The old brick and granite buildings are redolent of San Francisco. It has the feel of a major capital, solid and monumental. I hop off at the venue and find a street food court, long benches with QR codes on the tables surrounded by scores of purveyors. I opt for a Bibim Bap at a Korean stall. I head in any old direction down a busy thoroughfare; cafés, bars, falafel joints, clothes shops, veg stalls and halal butchers. It's more multi-ethnic than I might have ignorantly predicted. There are a few panhandlers and I pass
a man slouched in a doorway under his jacket with a tourniquet around his arm. Every now and then I look down a long street to see green pine covered hills in the distance. It's mild with a gentle spit of rain and I wander lazily in half a dream. I pop into a cookware emporium and buy some earthenware coffee mugs and a corkscrew to replace the one on the bus that decapitated itself while opening a beer. Metal fatigue had set in from overuse. I wonder if the same happens to headbangers.
I bump into the Whitmore sisters at the bus and they kindly escort me to the stage door. It's eerily quiet in the venue as there is a sound curfew before 5PM. Chris Masterson sits on a banquette plucking at a hollow body electric, making the thin, needling noise of an unamplfied guitar. I drink some Pepsi to pep myself up. I do a quick crossword on my phone. Tick. Tick. Tick.
The promoter gives us meal tickets for a Middle Eastern restaurant round the corner from the venue and unusually we all eat together, a good thing for morale sometimes. Not that morale is low — the bus is luxurious and the dressing rooms mainly spacious and well stocked. Tonight our room makes Andy think of a tiny apartment in Hong Kong with its partition walls, tiles and high strip light. It could be a set for a brothel in a Hollywood film about the Vietnam war. After the food I walk into the rain. A few fans say hello from under their umbrellas. I venture into an upmarket arcade and take a chair outside a closed café. I can hear the rain battering on the glass skylights making a sound like radio interference. The arcade features two large sculptures, one (by Mark Quinn) depicting a candle-wax-white Kate Moss in an extreme yoga position, thrusting her crotch to the fore. The other is just a very tall woman in shorts and high heels. She looks wary like a giraffe who has wandered into town. I feel sorry for her. The little folk around her are making her nervous. It's by Sean Henry and it's called Woman (Being Looked At).
It's a funny sounding gig with a very dead stage and with my in-ear monitoring I feel remote from the small crowd a metre away. I see a field of upturned faces with shining eyes. There are a few clappers and jiggers lending encouragement. Most folk seem to be smiling. There's something absurd about us being here, a Monday night in Oslo, playing these 30 year old songs. How did we all get here? There wasn't a plan. For me it's a temporary respite from the hopelessness of the future. I hope it might be for others too.