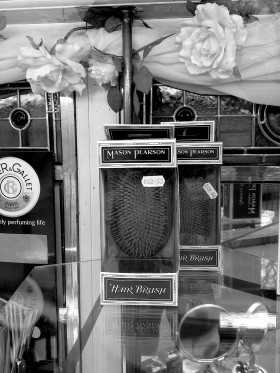 On to Holmfirth
12th May, 2012
In the morning I race over Buxton's pretty park set on a hill to hunt down the bookshop Derek has told me about. There is a swirl of slanting rain so I buy a wooly hat from an outdoor suppliers on the way. The bookshop is well-stocked over three storeys and has a few quirks. There's a make-your-own tea and coffee set-up on the fiction floor alongside a large soft-toy tiger who lounges on a chaise long in the bay window. Unfortunately there is also a nausea inducing "snogging corner – adults only" sign hanging above a nook, but everybody makes mistakes. I am pushed for time and buy a George Eliot novel I'm fairly sure I'll never open. I liked the first page so it's mine for six quid. The owner, who is sorting through some old scores (and settling them) asks me if I can spell Tchaikovsky. I spell it correctly but his score has an extra "s" before the "ch" and I am failed. Fucking smartarse. I'm going to go back there and kick all his books over and slit the tiger's throat.
Tonight's hotel is on the outskirts of Huddersfield so we decide to spend the remaining hours before load-in in Holmfirth but it proves to be an error of judgement. I don't find Holmfirth quaint at all. It's utterly nightmarish. For some reason it reminds me of the bad acid trip of Tam o'Shanter. I fire about seeking sustenance and a wi-fi connection with no success. I can feel a black mood descending. This must be resisted at all costs. Brian, the tour's technical consultant, cheers me up with a spirited impersonation of some kind of mad nineteen-eighties Club Med cheerleader with a pair of electronic drumsticks he's purchased from a charity shop. This sort of thing could be a hit on YouTube along with the obese cats and religious assassinations.
Some lovely frands turn up, Sal, Dianne and Emily, people who befriended the old group back in the late eighties. They were early adopters and are proving late leavers. Their loyalty is not to be sniffed at – a lot of water has passed under our bridges and there have been a few fatal floods that might have washed the piles away. Indeed, the tour has been developing a bridge theme after the twin spans across the Mersey at Runcorn. Sound man Dave has been collecting sightings and photographs. I imagine that the ingestion of copious amounts of heroin would deter such proclivities but I may very well be wrong.
It turns out to be a good show, as I suspected it would be. The Picturedome is a genuinely great venue for music. It all fits together perfectly – stage height, standing section and most importantly, a bar in the same room as the act. I'd dearly love to do it again with a three piece; maybe shorts, a string vest and pumps. Afterwards I meet a very old acquaintance, songwriter and guitarist Mark Wilkinson. We calculate it's been 22 years, but people don't change and he's still wonderful and natural company. The night is crisp and sweet above the van as we stand around saying a few goodbyes. From the corner of one eye I spot a plump star towering over the town glimmering quietly. Out there above us are the dark ravaged moors where lonely bodies lay buried. We hit the trail through the gullies to the hotel high above Huddersfield. Stragglers smoke outside the entrance as we pull up, dressed in Friday night finery. Someone must be getting married tomorrow. I slip between them like the invisible man, hell-bent on bedtime.