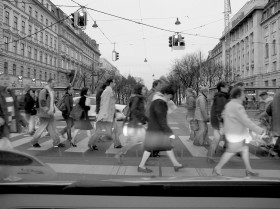 Munich to Vienna
9th November, 2010
Into the East
The cruiser skirts along the foothills of the Alps to our right, two-storey barns and bulbed church spires nestling in the hollows. Across the border: pop radio. Wall to wall FM shit from Bryan Adams to Madonna. Amy's Back to Black saves the day, scything through the crud with an incomparable bitterness and wonder. The rain is all around the vehicle like a tempest. In my hideously over-decorated hotel room last night I took a lightning tour of the TV channels. As I drifted through ch. 28 I just caught Dizzee Rascal saying, "…and the winner is Lady Gaga!". Whither the rascal now? I see a smiling industry reptile in a white suit. Review the situation, take part, take over? I guess you did, Dylan. Bon voyage!
I take a fast stroll around the nearest bit of Vienna to the hotel. I've never been here before. I see rich women in fur-lined padded jackets walking little dogs. The dogs have their own wardrobe: poncho style capes, or tight little anoraks. I dip into Café Englander for a coffee and a soupçon of Viennese society. Two spoilt forty year old women, sans dog, quaff white wine while beside me an authentically intellectual-looking group of grey-haired men smoke strong tobacco and exude liberal authority. The owner arrives and sups briefly at their table in obsequious tribute. Share prices scroll past on the TV above the bar. This place is really pretty classy. I spy a remarkably good portrait of some renowned woman on the wall of the dining section. The youngish barman has a perfectly trimmed post-modern moustache, a side parting and original eighties spectacle frames. He's cooler than anyone in New York City. I'm wearing H&M rubbish and am the only person there to be tinkering with a mobile phone. I cough up and make my exit.
It's cold and the light drizzle colder. I have come without my hat. Appallingly fashionable sushi restaurants are raising their shutters, apothekes selling nothing but myrrh and leopard serum spread their benevolent light onto the street. I pass twee ski shops and a Spar that would make Fortnum and Mason blush. Where did all this money come from? Where are the ports, the coal mines, the valleys of industry? Did it all float down the Danube in the days of empire, merely netted and saved?
I go to my show to warm up the troops for the headline act. It's a busy room and warm with chatter. Some kindly folk approach at the bar afterwards with sweet tales of their fondness for my output. They attempt to be input and they are appreciated.