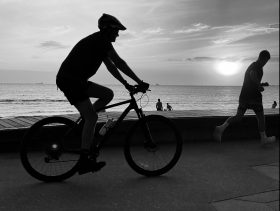 Melbourne
23rd February, 2023
Heading out to St Kilda from the airport we hit our first traffic jam of the trip. We skirt sluggishly around the skyline. Somebody has dumped a forest of graceless structures on the city we first fell for three decades ago. Grand theft auto. Jesus. Melbourne has been invaded by vulgar giants. Our hotel is a mite tatty but we're at the beach, by the venue and in the thick of lots of cafes, bars and restaurants so we're happy. St Kilda is still a two storey sort of zone. My 1st floor room looks directly onto a brick wall covered in bird shit. Two scruffy pigeons preen their oily plumage on a grimy dividing wall. Some yuccas just about reach the bottom of my window from the tiny courtyard below. Time to poke about the neighbourhood.
I walk across tram tracks down to the bay where the sun is rapidly sinking behind a smattering of masts swaying from side to side like metronomes. Locals and their canines are silhouetted against the silver sea washing onto pale sand. A gull approaches begging for chips. It has a black pupil in a white iris, giving me the side-eye. It's warmer here than Brisbane, oddly. I'm sitting on a low sea wall that looks like it's built from blocks of freshly cooled lava. There's a ferris wheel but it's not turning and metal fences demarcating a beer festival that's not pouring. A sign reads: Beware of pufferfish. You don't want your mutt eating one of those livers. There are windsurfers on the water and a few sunbathers flopped out on the sand. I spot the venue, the Palais Theatre and the entrance to the old funfair, Luna Park and I'm transported to 1990. I was 25 and in the throes of our first success. Did it ever occur to me then I wouldn't be back until I was 58? And playing some of the same songs in the same venue? I met a girl here then and we went on to have an affair but illness and my ignorance eventually put paid to that. I'm not the same man. Just a shadow walking around with some other boy's memories.
A volleyball comes bouncing across my path on the promenade pursued by a thin guy. They're playing over yellow nets strung along a stretch of beach behind the theatre, eking out the last of the light. Wind picks up in the palms as the sun dips into the ocean. I take a few snaps of the dying day, figures black against the backdrop. I put the past back in its place and go looking for food.