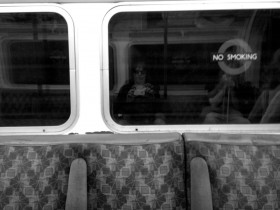 London July 26th 2013
7th August, 2013
Airports. I walk the gauntlet of painted ladies and try to fight off the olfactory assault. Right after the martial roadblock of security the inquisition of the wallet. If there's an empty space, put a shop on it. You can't get near a chair until you've done the corridor of consumption. I buy a Private Eye from a scrupulously polite young man in a glorified kiosk. He's going places and so am I. I espy in the lounge a soundman with whom I am acquainted but he's deeply buried in a book. A little further on I see Stevie Jackson from B&S but he too is engrossed, headphones locked over his curly hair so I resist interrupting and take a seat in my own little patch. We all have our own little patch. A very pretty young mother approaches with two red-faced bairns and parks opposite. I pick up my belongings and run and by the time I'm resettled the pair are bawling like their lungs are on fire. Good move, Scrooge.
I meet two Brians in the queue for the flight. They're off to Europe to crew for the Belles at a festival and as I feel a pang of jealousy I remind myself that I had those good times too and it was all just great fun and brilliant luck. I'm perpetually grateful that I have a past so that I no longer have that acid hunger that hankers for a future.
The Airbus lifts itself through scattered clouds and I contemplate the residual guilt of the toxic effects of my journey. I imagine the vapour trails behind me choking up the delicate shell of the atmosphere. We are a crop-duster killing the human insects below. We are savage gods.
At reclaim I rendezvous fleetingly with Chris and Stevie from the group as I chat with the Brian I know the best. I wish them luck. They're off to San Sebastián and I take my leave to catch the Paddington express, not a euphemism for suicide by bear. Back to the capital, shod for the long day's march ahead, two bags on my back and hope in my rattling heart.
I spend the next three and a half hours writing my own name a thousand times. I'm sitting in the "boardroom" zone of Ignition's offices, catching glimpses of the business at work between autographs. Everyone is very quiet and very busy. I can't fail to be impressed. Mine is without doubt the easier job by a country mile or a hundred city blocks. I finish around seven and leave with the last man standing. We drain into the great currents of London's ocean and I am swept out west to my hotel.
In the morning I have a little meeting with man-manager, John and head out to Hammersmith Bridge to do a shoot with a friend. The early clouds burn off as the sun arcs into its overhead dominion. My friend and I pose for all we're worth as passers-by mutter speculation about our provenance. They'll never guess and we'll never tell.
I clamber onto a Paddington bound bus with my bag of togs in tow. The heat has built to a trembling malevolence. At the station I dump my bag and break for Trafalgar Square to see a friend's entry in the BP portrait competition hanging in the National Portrait Gallery. I am biased but his work stands – with its head and shoulders – above the rest. I find it hard to understand why anyone is paying attention to anything else. I feel immensely proud of him and leave a message on his voicemail as soon as I hit the street. Whatever proud means. I suppose I am enormously pleased that his work has been vindicated in some way. Like Murray's victories this year – the utter joy of vindication.
I return to the train station and reclaim my luggage and light out for Heathrow. The arteries of the city distribute humans to every extremity of the planet. We circulate about the surface as the great ball turns. Everyone is going home but home is already here.