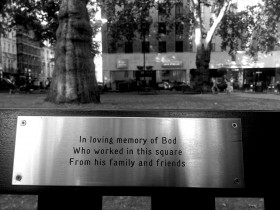 London, 11th July 2013
12th July, 2013
I'm sitting in Berkley Square completely surrounded by the inexorably circling feeding frenzy of London traffic. The stately Georgian townhouses seem to glare down upon my classlessness. Behind me in the Bentley shop window, big glinting automobiles squat like hounds panting gently on the lord of the manor's drawing room carpet. The noise around me is vast and unnameable and lulls me into a pleasant stupor. The odd horn blast declares itself above the din but it is this huge congregation of machines that predominates. London is alive with the dread sound of engines burning oil and spewing every kind of particulate into the warm evening air. Business types flit by on their borrowed Boris Bikes; a sprinkler, muted by the cacophony, flicks fake rain about the place which the lurid grass drinks enthusiastically. I regard a pair of red telephone boxes set beside an old-fashioned pelican crossing, determined relics stubbornly attached to a dream long gone. London is a machine for manufacturing money and takes care to preserve itself lest anyone notices how much it destroys. The six-thirty sun falls through the high foliage onto my upturned face. I am resting en route from two radio interviews in the West End to my little Paddington pad, a hotel room so small I could probably wear it to a wedding.
I'm drifting in the luxury of an unplanned evening. I have bought a pair of stupidly expensive shoes and they sit boxed beside me on my wooden bench like a desperate shield of status. Some day soon I'll be standing drunk in them, swaying and swearing, swilling for Scotland, dandy to derelict in one fell swoop.
I walk up Mount Street through Mayfair to Park Lane, the restaurants overflowing with budding billionaires in pressed pale blue shirts, the uniform of entitlement and success, lackeys to the lucre. I turn right and pass the great hotels, The Dorchester, The Grosvenor, heaving with the rich, and come upon a hoard of men in dinner jackets and dickie-bows making their way to a function. Cabs, mostly empty, queue the length of Park Lane and I cross over into the relative serenity of Hyde Park. Trudging through the sand of the bridle path, I'm passed by joggers keen to sweat, getting nowhere quickly and gaggles of cyclists bound for home. I'm surprised to see wild long grass so near to the city's heart, small groups of people strewn about picnicking or just sitting still, half-hidden by the greenery drinking in the sun's sweet light in the enormous enveloping claustrophobia. Crazed and giddy, London is at its barmy best – rivers of people flowing through its arteries like white blood cells racing to scenes of infection and breach. It's a carnival of commerce two train wrecks and a bomb blast away from total collapse.
I take dinner in a place called Le Pain Quotidian, daily bread or grinding pain. My blonde, blue-eyed Teutonic waitress ministers to my weariness with a chilly pragmatism. Everyone around me looks blithely prosperous. I am a renegade on the edge of the elite, just about winning in the struggle to evade destitution and despair. I look down at my shoes and notice they are painted with yellow sand from the park. The new pair sitting on the opposite chair creak within their box in hopeful anticipation of making a debut. The capital is calling them: step out boys and see the sights, the city is ablaze and the streets are lined with gold dust.