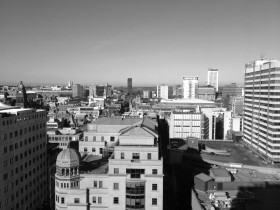 Leeds, February 19th 2013
21st February, 2013
I like Leeds. It's the Manhattan of Yorkshire. The dwellers have interesting faces. They're open and blunt but oddly into fashion. The venue is a gorgeous little theatre of great vintage. It's been refurbished but I notice from the big book they have all the performers sign that Jeremy Hardy preferred it before. Jerry Sadowiz just wrote: I should be in musicals. Nobody else seems to have tried to be original. I tried and I failed.
Great audiences in Leeds, I don't know why. I've always loved playing here. This lot carry me through a difficult night. I am very grateful to them. Afterwards I head straight for the hotel and bump into some early leavers on the street. I take a photo of myself with a woman's phone. I think I get her in it. The world is slowly drowning in photographs. Human-like creatures will excavate Earth billennia after our extinction and base their entire cultural theory on the fact we worshipped cats. And owls. Owls are cropping up everywhere. An owl once landed on my head. I had a hat on.
I coffee up and load into the van at midday. The streets resound with engine noise and a chorus of pneumatic drills. We are off to the seaside today.
Whitley Bay is all barbers and charity shops and churches. The wind has teeth. I take a whistle stop turnaround. Not much to see at first glance. It reminds me of Prestwick. Don't go to Prestwick.
Our abode is a local hotel with a violently patterned carpet and mad camp armchairs. The proprietor is most accommodating. He insists on dragging Brian's suitcase over the hillocks of the establishment's many staircases. My room is a mixture of old school guesthouse and student digs with the incongruous inclusion of a corduroy chaise longue. I need a giant box of value Cornflakes and a Jimi Hendrix poster. I listen to Nick Cave's new album and the scene is complete. Somewhere nearby is, I assume, a bay with a beach. I think better of making an assault. I already have east coast teeth marks in my face.
After the show I sign an autograph and have a photo or two taken beside our blacked-out van. Nobody is going to linger very long in this temperature. I take to my bed-sit and watch the fag end of the Brits stretched along my chaise longue. I demand hookers and cocaine. I get crisps and a bad Matt Damon film on BBC1.