French village
14th August, 2013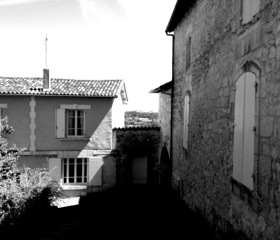 I wake up in a pleasant little hotel in a sleepy village which on further investigation turns out to be a suffocatingly picturesque tourist trap crawling with those middle-class tourists who frequent stupid shops full of gourmet this and vintage that. There's a shop that sells cupcakes for fuck's sake. They're all wandering around sleepily looking for orifices into which they can ram their money. I hide in a bar out of the heat and scowl, like I ain't the same as them. But we're Brits abroad together no matter that I'm here to "work" so I drift along with the posh scum, nosing into an overpriced antique shop and poking at dull things. I flip through a box of vinyl which contains three Rubettes albums, some 80s Hi-Energy 12inches and a Richard Clayderman LP. Nothing even resembles bad taste, it's all just no taste at all; saltless and flavour-free. France as an idea recreated in Utah and staffed by out of work actors. I take some pointless snaps, a puppet theatre (there's always a puppet theatre) and a church. More digital effluent. We'll drown in all this dead data before the world gets smashed to pieces by space junk.
I need coffee so I duck back into my dark pub and lurk in a corner and tap at the little hearth of my phone. There's that sort of lightweight Gallic acoustic music you hear tumble from tiny speakers in cafés the world over. Gypsy jazz – polite and anodyne, it hurts with its harmlessness. Whatever you do, don't spook the horses or the herd won't linger and the herd won't spend. For some reason I'm engulfed in houseflies who constantly alight on my naked knees and tickle my leg hair. They are mocking my grumpiness, busybodies breaking stuff down. I watch one investigate my table. What's he looking for? A mate or some muck? I tempt one with some crumbs from a biscuit like it's a fucking mouse. Nothing doing. They must be longing for some merdre but they'll be lucky. This place is germ-free and scoured sterile. Even the filth is polished and prettily presented. The flies forage fitfully in a pitiful search. I drop my two coins and take my leave.
As I weave back to my hotel I try to spot some ugliness but it's hard. Everything has been conserved and restored beyond what it ever was in the 17th century. Chaos is conspicuously absent.
John and I take lunch on a terrace restaurant above the main road. I have steak tartare for the first time since some promo tour in Brussels in the early '90s. I hack at it with my fork, blending the uncooked egg into the raw meat with capers, chillies and chopped shallots. This'll do nicely. We speak French to our youthful waiter and he replies in French but before long our efforts hit the buffers and he depressingly reverts to Engish, obviously his mother tongue too. But we persist in bad French to annoy him. L'addition, s'il vous plait!
I feel myself starting to lobster under the midday sun and retire to the shadows of the hotel, my phone full of impressions and photographs. Everybody now carries a pocketful of evidence. We're the new self-incriminators. We film ourselves fiddling our taxes, committing small infidelities, writing our poison pen letters, knicking knives and forks.
I feel myself starting to relax – a big mistake. I consider the show for a minute. Last night, Andy the promoter showed me his stiff glossy flyer for the run of summer shows I am appearing in. My name, somewhat magnificently, nestles amid those of Chas (sans Dave), Les Dennis and Alvin Stardust. I am truly a mortal among gods. Let the sordidness commence.