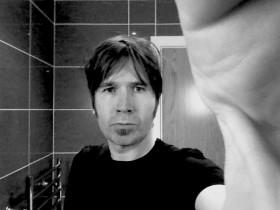 Day Off, Bristol
15th May, 2012
I'm in a Radisson Blu which is a good thing. Twelfth floor with spiffy decor and big windows. I have a tiny silver kettle with the word "distinction" written on it. I have two kinds of tissues and a desk and chair set painted gold. I am a modern man in my modern box and nobody can take it away from me. Not for 48 hours. We rush out to catch the high drama of English football's final instalment. An enormous wall of a man sitting in front of me seems tense. After City win he reveals that he'd placed £1,500 on their victory. The bookies call this buying money – laying large sums on very short odds. A fucking idiot's game. He screws up his copy of the Sunday Sun in anxiety during the match when City go 2-1 down. I could tell straight away he wasn't watching the football. He was staring at the turning wheels of a big-screen fruit machine, sweating blood, just like the billionaire owners of the two clubs on the pitch.
Later there is a dreary curry taken somewhere on a hill before we briefly decamp to a little pub advertising a "secret garden" where a group of middle-aged men are playing gin rummy with a deck of oversized cards, lending the space a trippy quality. The bell clangs at ten fifteen and we shuffle out shortly after. The garden was locked so remains a secret. It was probably just a beer garden that was seeing someone else's rockery on the side.
The following day I snoop about the city centre. You can see where it was bombed to bits in WWII but Bristol has enough old shit left to be interesting and charming. There are brutalist concrete structures hiding behind great Georgian edifices, roofless ruins of Bath stone churches among pretty curved brick rows, cobblestones and old nautical fittings. I find Wanted Records and flip through some vinyl. I buy some Roy Ayers, Mel Tormé and Sly Stone's last listenable record, Small Talk.
The gig is a pub gig; dark, seamy and functional. A good-sized crowd rolls up and I do my thing. For some weird reason, when you play solo everybody you talk to afterwards asks you if you've enjoyed yourself. I can't think of a response that doesn't sound arrogant and rude. I'm not supposed to be enjoying myself – they are. I'm balancing on one toe on top of a marble trying to reach a dud lightbulb with a drumstick. If you've enjoyed yourself you've failed badly. It's not a night out, it's an expedition into enemy territory. If you get back unscathed, consider it a success.
We light out to Brighton at eleven. The traveling is a balm after the brief becalming. You can't get mired in the clutches of the past when you're constantly outrunning it.