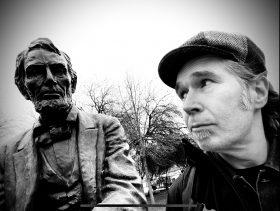 Day Off, Boise
5th April, 2022
BOY-see not BOY-zee says Wikipedia. Well, the streets are immaculately clean and everyone exudes that rural hospitality so typical of the US beyond the megacities. There's blossom on the trees and snow on the hills and probably a fair bit of Trumpism in the wings. I breakfast at Bacon, a disgustingly porcine themed place a few blocks from the hotel. They're playing country music and all the bacon tastes of Coke. They serve a little board of five different grades of crispy rasher in shot glasses. It's a dreich day but not too chilly so it's time for another bout of aimless walking. Presently I find myself glaring into the void of a window in the Egyptian Theatre when a man swims up from the dark interior and waves at me. I wave back uncertainly. I stare at a weird poster for a Joe Jackson show. He looks like a baddie in a John Waters movie. The rain starts to eat away at my morale so I decide to shelter at base camp for a few hours.
After forty or fifty winks I mosey on out again, my destination the Boise river. On the way I stop by a vinyl emporium. The storekeeper says they like my hat. Thanks, I say. I like their T-Shirt. It just says Local Queer or Queen, the last letter unresolved as I don't wish to stare. Glad to meet you, Quee. There's a warm wind whipping about bringing a change, one senses. Crossing the highway I spot a lone puff of tumbleweed, blown in from the wild. At the river I pass through a genocide memorial with various poems and quotations embossed onto stone monuments. One has a list of genocides with approximate death tolls appended. There are quotes from Ann Frank and Ronald Reagan and I sense years of committee wrangling behind this design. I take a seat on a stone bench and listen to a gang of geese gabbling obstreperously. There appears to be a territorial dispute going on over some fallen trees on a boulder island in the river. After a while they calm down and start preening. I find a statue of Lincoln, seated with his big hat beside him. He's rendered in a very discomfiting scale – not quite twice larger than life. It's almost as if HE WAS JUST A VERY BIG MAN. As if he had a hell of a hormone condition. His head is about the size of a suitcase.
I dine in a dimly lit pan-Asian joint, the waiter sporting a clinically trimmed beard and fetching turquoise nail polish. My food  comes in Lincoln statue proportions and I have to box up most of it for another time. I meander back to luxuriate in the cool, clean white sheets of my room, reading of Cary Grant's vaudeville days in 1920s America. One of his fellow acts was called "Swayne's Rats and Cats" which consisted of a small arena set on the stage whereupon a dozen rats would chase a dozen cats. One hundred years on and popular entertainment has little improved. As we shall prove tomorrow.