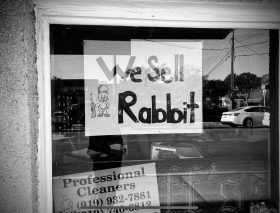 Carrboro, NC
21st April, 2022
I stir at sunrise and sit in the front lounge as the bus pulls into the leafy campus of Carrboro-Chapel Hill. The sun is a pale gold orb above the horizon. Suddenly there is foliage. We pass through neighbourhoods of those charming southern houses – all whitewashed wood, pillars and porches. Miniature grandeur among the trees. After more sleep I go off in search of the Target I spotted on the way in. I'm a man in search of underwear. Many old and ugly things have gone down the garbage chute on this tour. I need replenishment of the smalls. En route I drop into the Ackland Art Museum, a building devoted to exhibiting the cream of the wide-ranging collection of English actor, Josh Ackland, star of White Mischief. It's very mixed-up, the ancient world rubbing up against the medieval but there's a gorgeous little Degas sculpture in the "modern" room and an amusing white papier-mâché man whose knob hangs at a jaunty angle. There are Spanish language students being led around by their tutors and asked to describe the art works. One guy's Spanish accent is so bad I nearly burst out laughing. But he's brimming with confidence and his grammar is not bad, to my ear. On the way out I drop two dollars in the slot of a Perspex box to become, in one easy act, a patron of the arts. Perhaps Josh's family will have a wing named after me. Maybe I should have left more than two dollars.
Wikipedia tells that the town is named after "industrialist" Julian Shakespeare Carr who, it turns out (among other things), was a white supremacist. This guy was seriously hands-on when it came to despising black people. A name change was lobbied for but nothing doing, apparently. I'd vote for Joshboro. Old Josh never did anyone any harm, did he? And his performance in Bill and Ted's Bogus Journey deserves to have a town named after it.
After the usual repetitive drudgery of the soundcheck I make for the Army Surplus store across the way. Iain has already met proprietor, Keith who has been here for 34 years and is a proud 7th generation Scot whose ancestors hail from Aberdeenshire. With his wavy grey beard and ruddy cheeks I can just picture him on a sheep farm or a trawler. Or as an oil executive. He shows me a photo of himself in full kilt and caboodle. His sporran is so long it looks like he's sitting astride a mountain goat. Perhaps this was the impression intended. His shop is a densely packed cavern of manly delights. I buy a green combat-y thing. You never know, I might have to fight in the hills when I go back. They'll never see me in this. They'll think I'm a tussock. Many already do.