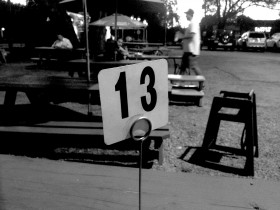 Austin, Days Nine to Eleven
15th October, 2012
I start off with a little saunter through the pleasant morning heat down to the no-nonsense taco place that's becoming my breakfast local. The migas is my thing. Scrambled egg with two kinds of cheese, lots of coriander and salsa on top of a fried taco for two bucks and change. No doubt Mexican food is so inexpensive here due to cheap imported labour. In the west, when something is cheap you can be sure somebody's getting fucked somewhere. Think of all the missing fingers and blighted lives resulting from those disposable clothes you buy in Primark. Don't even mention smartphones. We're living in a science-fiction dystopia which has, remarkably, become reality. Modern living. The repeated shafting of the billions-strong underclass by the wealthy few. It's a gas.
More overdubs today. Some Moog, upright piano and double bass. Some of this stuff is starting to get weird in an excellent way. David, the piano and guitar player kindly brings in some Parmesan to nibble. Classy touch from a classy musician.
The city is gearing up for a big music festival this weekend, ACL or Austin City Limits, a popular TV show turned annual event staged at a park downtown. I spy a sushi bar on the way home and as I get out of the car the distant rumble of a big PA echoes around the buildings. I have a pang of longing for those warm nights on big stages, the buzz and the craic. There was a rainstorm at Mississippi State that nearly blew the stage away, a Hadean parking lot under a flyover in Jackson with a drink and drug hangover so bad we felt like we were tripping. A town square in Sacramento when the sound boxes fell onto the front row. The giant inflatable parrot on the beach in South Carolina that was draining the power from the generator and fusing the stage. But it's good to be outside of it all. The city is quiet away from the festival area and I wander around aimlessly over the weekend enjoying the solitude. Like Glasgow during T In The Park, you feel like you have the city to yourself, the bars are empty and there's a knowing sense of refusenik camaraderie abroad.
Friday drifts into Saturday and Sunday. After three or four days of cloud and some heavy rain the skies ring blue again. I attempt to get some sun on my face and slump on the grass in another local park. Dog walkers and frisbee throwers slope about among the squirrels and jackdaws. I was meaning to take a trip to a National Park but the website put me off warning that the car-park gets full and closes this time of year. I don't want to go to some shopping mall version of nature. I want that Scottish thing where you stop where you can and just start marching away from the road, other people and your troubles. The Scottish hills are the only reason many people I know are still sane. But later I do go for a drive,  I point the car north through scrubby pines and around the edge of a chain of lakes, past signs for Flat Rock Creek, Hickory Creek and Marble Falls. I keep the windows down so the warm evening air blows a storm in my hair as I listen to Townes Van Zandt, Verbena and Gene Clark. This is how the US is meant to be – tooling around the back roads in your hot wheels, the stereo up way loud. I pass famous barbecue joints on highway 71, their sweet smoked odours filling the car for miles after they've disappeared in the rear-view mirror. As I come back into town via South Congress I pull over at a roadside food trailer and gorge myself in the descending night. All is good for an instant, the air cools a little, I'm sitting still and I know where I am.