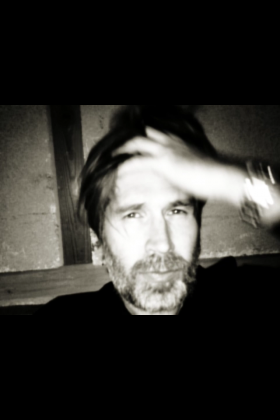 Austin, Day Seven
10th October, 2012
Back in the bunker after a gruelling session on Monday. Multiple takes and a lot of singing. It takes me back. I haven't worked like this since I was a young man. I am no longer any kind of young and I'm wrecked by nine at night. It's a beautiful cool night, the Milky Way is faintly visible and I drive around until I find a hippy co-operative where I buy some dried up sushi to drag home and club to death in my cave. My nightly treat is a bottle of root beer; that medicinal elixir that's so redolent of old-time USA. I take my repast watching John Boorman's mad Point Blank on the computer. Then I watch Robert Siodmak's Criss Cross on YouTube on my phone. Both films have brilliant, grim, pessimistic endings. I'm going to watch The Werkmeister Harmonies tonight on the microwave.
Me and the band wait outside the studio for Mr. McC to arrive. They talk about gear, drink, girls and touring like all musicians do when they're having a coffee morning.
We have a productive afternoon and cut two tracks live in short order. We're taking vocals live too which is horrific to an anally retentive control freak like me. I'm outwardly rolling with the process but inside I'm a riot of anxiety. It's the British way. Smile through the rising sense of doom. Stiff upper head.
Today we break for food and we saunter to the end of the street to a Mexican cantina where we are served excellent cheap food. The restaurant has yellow walls and bright floral plastic tablecloths. I have chicken tacos and Mexican coke, the good stuff with the cane sugar. The light and the heat glow with a southern warmth. There are discarded malt liquor bottles lying in the coarse grass around a sycamore that we walk under on the way back, evidence of a sad and awful sort of party. One of the lads had been asking about Buckfast earlier, Glasgow's poison of choice for the discerning dipsomaniac and I had explained its cultural significance very badly. Very good on a speed comedown, must be served cold.
We hit the wall at nine and quit while we're sort of winning. Everyone hangs for a bit in the kitchen area for a blether. I earwig away, something of a non-contributor around these folk I have known so short a time. There will be time to talk back home later on, rivers of words will flood from my loose lips into the little pool of my friends.