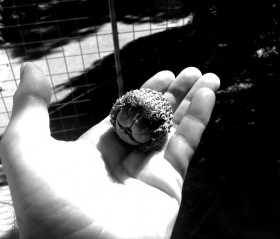 Austin, Day Nineteen
26th October, 2012
Last day. I'm still dicking about with last little vocal things. A very nice tall man called Bruce comes in to do some backing vocals with me. He's a good natural singer and just the ticket. It's just one simple part but having another voice helps a lot. He's a songwriter but it's difficult to track down his work on the web as he shares a name with Bruce Robinson, the British director of Withnail & I and the recent very underrated The Rum Diary. I get distracted by a highly entertaining interview with the director from a 2011 issue of the Independent. He tells a story about when he was drinking five bottles of wine a day and he ran out. He got in his car and as he was driving to the nearest off-licence noticed in his mirror some prick in a silver van hanging on his tail-lights. He braked hard to get it to back off but the guy just braked too and stayed right on his arse. So he came to a stop and got out to remonstrate with the driver to see his wife's horse box hitched to the back of his car. There's also a Bruce Robinson on Wikipedia who is an ex-baseball player and, confusingly, now also a singer/songwriter. I am later informed that my guy is actually Bruce Robison (one 'n') and find him online. He's written three country number ones so maybe his vocal overdub will bring my song some luck. Thanks, Bruce.
I'm weary of the bunker. I've not spent so many consecutive days in a recording studio since 2001 in New Jersey with Iain and Commissioner Gordon, and that was mainly mixing. And drinking. Iain and I found a dive bar situated on the stairway of an obscure exit in a subway station. Full of major alcoholics, it was a magnificent oasis in uptown Manhattan. But it's been a dry few months for me and with a 5am start I'm not going to start boozing tonight. Which is a shame as I could do with a blow-out. Sobriety is all well and good but after a while you need to feel…abnormal. I want to be in the state of being other than myself. I want to be abnormal.
I exchange a gentle farewell with Mr. McC, a shy man on the whole, and drive off into the night. Rain is coming, the air is turbulent with its threat. But that southern heat is still there, sticky like spilt sugar. The emotion of leaving stirs distantly inside me as I drive. More places to which I'll probably never return. No matter, I'm moving on. Motion, momentum; they keep the demons at bay. Tomorrow I'll take the car back and pull my property from the boot. A microphone, a guitar, a computer, some records and books. I went down to Texas and then I went away.