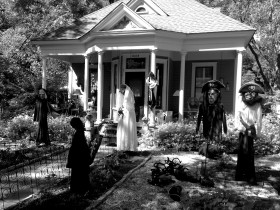 Austin, Day Fourteen
20th October, 2012
It was a relatively late one last night, battering away at a vocal comp with Mr. McC. Remarkably, it sounded good in the morning so we had somehow managed not to lose the plot, which is encouraging. I drove downtown to a 24-hour diner afterwards and sat at the bar. Corned-beef hash and eggs, root beer. The joint was filled with twenty-somethings in their chunky spectacles and carefully distressed T-shirts all gabbing away with enthusiasm while a string of loners like myself sat reading free-sheets on our bar stools. The night had cooled significantly with the narrowest sliver of a crescent moon sailing over the city in a sideways smile.
The sun comes angling through the trees straight into my eyes in the morning. I tune into Radio 4 on my phone, six hours ahead and as prissy as always. The tribulations of Gideon Osborne and the Tory overlords seem petty and puerile from this near five thousand mile distance. I take a trip round the park and take coffee in the sunshine, dabbing away at emails on my stupid device as I do so. In this cafe and at the bakery round the corner every table is taken by a be-laptopped dweeb. Computers have replaced cigarettes to soothe people's social awkwardness. Their frowning little faces light up in the comforting glow. I survey them with mild pity. Nobody sits staring into space anymore. Nobody can be alone with their thoughts anywhere, anytime. The media pervades every crevice of our days, there is no space unfilled. And effectively it's all advertising. And it's just advertising itself, mainly. The media now inserts you into its advertisements, making you feel involved, immersed. But it's not you at all. It's their idea of you, it's the avatar to which they relentlessly sell their shit. You have become the product and they're selling it back to you. You have become their shit.
The studio is now starting to resemble the one in Berberian Sound Studio. It has a spooky late seventies/early eighties vibe. Lots of cork, pine and beige soundproofing. I'll be glad to be out of here before Halloween. Already houses around Austin are bedecked with pumpkins and fake spider's webs. In a corner garden near my lodgings a whole battalion of zombies has appeared along with little tombstones and various gourds in a scene resembling a Black Sabbath album sleeve. I'm not entirely sure if this diorama is intended to attract children or repel them. I could imagine it being pretty horrifying to a ten year old. A friend from Edinburgh has emailed to suggest the swift manufacture of Jimmy Saville fright masks for Halloween. I think it might already be going on. Funny to think that three weeks ago if you'd Googled Saville's name, all the results would have been fundraising this, Jim'll Fix It that. Now it'll just be screeds of screaming outrage. He'd be squirming in his grave if his relatives hadn't already dug him up and thrown him into a cesspit, wiping their hands as they walked away like Father McKenzie in Eleanor Rigby.
I have a fast dinner in a dirty restaurant that slings bizarre fusion food – Japanese/Mexican. But I vaguely recognise the music: indie Americana of some kind and it's soothing, my mind drifts. I stare through the plate glass windows across the six-lane thoroughfare into a vacant lot, looking for shapes moving out of the darkness into the light like a dream.