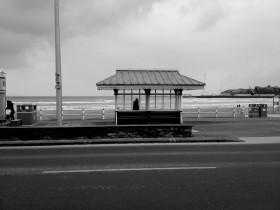 Weymouth, 24th February 2013
26th February, 2013
Finally we leave Weymouth after being waylaid in Bridport along the coast. The show was in the Electric Palace, a well-preserved cinema with some lovely early 20th century fittings. Or were they fixtures? The town seems populated by the posh and I strain to hear a local accent anywhere. Across the road from the venue I buy a little knife from a locksmith and go exploring before the soundcheck, looking for something to slice. I visit a cool little bar/cafe on the main street where the owner shakes my hand and a slightly pissed punter accuses me in a most friendly manner of being the singer of Breakfast at Tiffany's. He thinks I'm being modest when I deny responsibility for that nineties atrocity. I committed the other nineties atrocity. I have some tea and listen to the proprietor's soft soul playlist emanating from a pair of quality speakers then cross the street to browse in Waterstone's. The extreme chill has softened so I abandon an earlier plan to buy an emergency hat. Besides, Bridport's two hat shops are shut. The hat shops are shut! The hat shops are shut!
We take our leave of the south coast's chalky downs spotting Chimp Charles's hideous Poundbury model town en route, sitting atop a hill like some Swiftian nightmare. Stupid pompous meddling imbecile. The terrain flattens out as we pass Tolpuddle and head inland. I see some pretty churches and enormous gates for some grand estate. The clergy and the gentry; still locked in tandem, keeping the peasants down.
Bromsgrove is an in-between type of place but its arts centre is new and not half bad. Another 90s/zeroes construction among the many on this circuit commemorating the days of New Labour and public spending on the arts. I find a Wi-Fi signal in the foyer and watch the League Cup final on my phone. At half-time I idly watch a flock of small birds flitter in and out of the shrubbery beyond the big glass windows. I feel like a model in an old architecture magazine. I see my battery is draining along with my enthusiasm for living so make for the safety of the dressing room to load up on tea and snacks. A change of scenery is a little comfort for the soul. A Sunday night sort of show follows and we steal from the theatre under cover of the cold night to the safe house of the feathered Hilton on the edge of town.