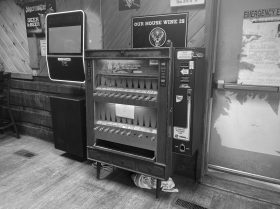 Warrendale, PA
24th April, 2022
I'm sitting outside a pizza place situated at an oblique X-shaped intersection and gazing over heavy traffic to a 7-Eleven somewhere north of wonderful Pittsburg. I could be treading softly through the Andy Warhol museum but instead I'm scoffing a floppy chicken parmigiana washed down with weak black coffee pretty far from anywhere. The sun is beaming down through a light warm breeze. There's a strong smell of gasoline. Boy racers zoom through in purple muscle cars, bikers on flashy machines race one another from stop lights. It's Saturday in rural western Pennsylvania. I long for the city but longers can be losers so I decide to make the best of it. I watch the traffic. People round here must have "weekend" vehicles. There are all sorts of wildly impractical throbbing monstrosities chugging by. Where do they go? Do they just drive around until somebody vaguely attractive yells, "Nice car!"? I have never understood pride in one's vehicle. I have never got why you'd spend half your leisure time tinkering with some vintage jalopy when the only place you can take it to is a car park. You can't walk into a bar with a car. Nobody respects a man who waves his car keys about at a counter. There are two things that matter in an automobile. Will it start and does it have a decent stereo? That's it. What it looks like from the outside, who manufactured it, how fast it goes — all irrelevant. Unless you want people thinking, "What a wanker" in passing, don't own a fancy car. You can't take it with you. It takes you with it. It stays outside while you're inside. Nobody sees it. Nobody cares. And if you start TALKING about your car? I'm going to start talking about my haemorrhoid, Eric.
The gig is a classic roadhouse set-up with a balcony that runs around all four walls so people can stand behind us and stare at the top of our heads should they wish. It's an early soundcheck and I'm off wandering again by 4PM. I crawl up a little sloped slip road to a sports bar called House of 1000 Beers where I have a coke outside. It's way too hot to be out here without a brolly but, fuck it I'll sweat it out. A couple next to me are watching basketball on the patio TV. They are wearing sunglasses and the screen is awash with their own reflections. This is not pleasant. There's traffic fizzing by on the concrete highway forty feet away and the heat is infernal. It's one of those new Anthropocene April evenings. All wrong. On the other side of the road there's a big Volvo dealership, beyond that a low tree-lined ridge, the leaves yet to bud. This seems like the area you come to buy a new car or motorcycle. Some guys who sit behind me are talking about car shopping. How long, how arduous it would be to walk across this continent from the forested greenery of the east to the deserts of the west. The combustion engine makes it so easy once you've strangled the place with roads. Access all areas. All areas destroyed.
On the way back I see Iain scoping out a bar near the venue he's heard about. We drop in for a look. There are used ashtrays on the tables and a cigarette machine sits beside the wall-mounted jukebox. It has a mountain people vibe, lots of pine slats on the ceiling and worn boards on the floor. As we're leaving I notice a damaged pillar on the building's exterior. The exposed innards are made of polystyrene. Nothing is real. I sit on a rock in the sun by the bus and am approached by a lovely Spanish couple who have been living here for four years. We chat about US culture, Trumpism and Covid. They're keen to move back to Spain but their daughter is just starting high school in the fall and she doesn't want to go anywhere. We do the obligatory photo and say goodbye. I beat back up the hill to the convenience store, situated inconveniently on the other side of the five-way intersection. I buy donuts for myself and Buddy as we're forgoing dinner. He puts some coffee on. We're like two cops on a stake out. Later I take a seat on the cigar bar veranda at the back of the venue feeling the air cool a little on my sunburnt face. You could fool yourself into relaxing at a time like this. But the ticking clock is our master and you must always keep your mind on it. The sky grows pale and the trees darken against it as torn ribbons of pink fade to deep mauve in the dying rays of the western night.