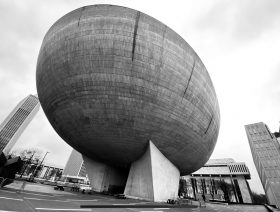 Toronto and Philadelphia and Boston
18th April, 2022
The dreaded day off, day of the dead. I open the curtains of my room on the 16th floor to an extraordinary panorama, the CN tower within throwing range with the huge railway station below, open water and islands in the distance. It's an astonishing vista and I draw the curtains closed on all of it and languish in my vast white bed. The venue the next day is the Horseshoe Tavern where we last played perhaps in 1990. It's a loud, grotty joint with a basement dressing room so grim it resembles a set from a slasher movie. But the audience kindly stick with us all the way. Through thick and thin you might say and boy are my efforts thin. We overnight back across the border on a long drive to Philadelphia and after squeezing every last drop from the dubious sanctuary of my bunk I take a wander. The air is oppressively warm and blowing up a gale. Eventually the skies open and the temperature plummets and I sit watching the local life in Rittenhouse Square, a perfectly proportioned plaza ringing with spring birdsong. A guy comes up to me with some witty shit about knowing where I got my shoes. He says he's hungry and he's not had a Philly cheesesteak in twenty five years. On receipt of twenty dollars he tells me quite a good Charlie Sheen joke, the punchline being "enough to kill two and a half men". Whether you live on your wits or live on your nerves, life is usually despicably unfair. I like Philadelphia a lot. It's New York with the amphetamines dialled down. It's seven o'clock, the light is soft and it's all very European — smartly dressed workers walking home from their shifts, joggers and dog owners, the odd cyclist. I meander back and try to perk myself up by changing into my stage costume early. My costume consists of the same set of clothes, just slightly cleaner and with nothing in the pockets. It's an arrangement both bewildering and brilliantly practical. I never have to think what to wear, I just have to know I have the appropriate version for the job in hand. Confusion arises when changing between them.
After a violently bumpy overnight ride I sleep till I can't take any more and march out into the Somerville/Cambridge sunshine, warm enough for shorts and sitting around in a fog of exhaustion. I take calories on board at a taqueria, accidentally ordering a burrito bigger than my face which I struggle to finish before giving up at the final carnage of guacamole and carnitas. My hands look like I've strangled a Martian. I shuffle off down Elm Street where there is little to see — clapboard houses, little dusty yards, blossom. Later in a scrap of a plot called Trolley Square Park I perch on a bench to discover it's built on rockers. I nod slightly back and forth as joggers and cyclists slide by, most of whom, frankly, are in abysmal states of repair. This neighbourhood is all about the life of the mind. The sun on my bare legs is comforting. Birds call to one another from the still leafless branches.
The following afternoon couldn't be more different. The bus is parked in a huge loading bay under nicotine yellow strip lighting. Access to the stage is via a large circular lift operated by a kind but slightly sad little man from a David Lynch film. He mutters about the weather through his mask, says something about April showers. From this I gather it's pissing it down outside. If only I knew where outside was.
TM Del explains the geography. We're within a giant egg on stilts and can get to the ground only via one of four elevators. I make it out into the grisly rain and wind to find myself dwarfed among an enormous modernist concourse, half socialist utopianism, half Kubrick futurism. This is Albany's Empire State Plaza. It's imposing, impressive and comical in a Chaplin sort of way as if it were a film set for a satire on capitalist power. I walk around taking snaps and horse into an adjacent neighbourhood closely resembling Brooklyn Heights, all brownstones and cherry blossom. There is not a soul anywhere to be seen. I remember it's a holiday weekend in the state capital. They've all gone away. A friend on Twitter points out it's Easter and we're playing in an egg. I also just finished my Cary Grant biography and belatedly realised that I'd watched two of his films on the day off in Davenport, Iowa. Cary Grant died in Davenport, Iowa in 1986 a few months after we'd passed through for the first time. This is a meaningless semi-coincidence but somehow comforting.
The bus pulls out of the Egg's loading dock around midnight and we follow the Hudson south to New York City, arriving at our Weehawken, NJ hotel at a civilised 2AM. I peer out of my 10th floor window and catch a glimpse of a wall of new midtown Manhattan buildings I don't recognise. We're round the corner from Jersey Heights where we first stayed in '86, seven of us camped on a studio apartment floor in boiling August humidity. We sat on the fire escape and watched helicopters float around the skyline like stray bees around a hive. There was a storm and it was the start of everything.