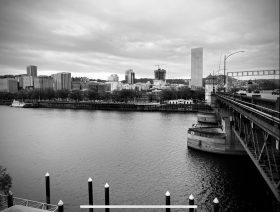 To Seattle and Vancouver and Portland
3rd April, 2022
Today we drive by day for the first time and I stretch out on the leather upholstery of the back lounge gazing across the fertile valley of the Willamette river to forested hills. White puffs of cloud hang temptingly overhead ripe to be hooked into a daydream. The landscape reminds me of Stirlingshire but, as with everything here, on a grander scale. You feel like you could feed most of Scotland from these fields alone, mapped out to the far ridges on the horizon.
We de-bus in Seattle around sixteen hundred and after a few desultory turns round some used clothes stores I go looking for sustenance choosing a balls basic Vietnamese gaff where a dandy of a waiter serves me a delicious bowl of noodle broth which I slurp with enthusiasm. The area around the gig is gentrified hip, if that means anything at all anymore. If it ever did. I walk to a wharf and smell the salt air. Small ships and fishing boats crowd around the quayside served by tumbledown sheds. Before the show I meet my friend Steven who is back from Hong Kong for a month. He and his wife tell me how bad Covid is there currently and how the Chinese government had no choice but to pursue a policy of containment and suppression due to the population size and density of their vast cities. We chat about Ukraine and TV before I have to warm up. Seattle has been a little wet today and the weather has made me hungry so after the gig I queue up at the little service window of a pie shop across the street from venue. I opt for the chicken hot pot pie which hits the spot. Soon I am comatose once more in a Melatonin mist.
We move off in the morning, having slept the night outside the gig, heading for the US/Canadian border. We're dealt with swiftly and politely at the frontier, the Canadian officials' uniforms pressed as sharp as cut glass. Even their face masks are perfectly pleated. Just beyond the crossing is a little demo, protestors waving inverted US and Canadian flags. One has a Gadsden "Don't Tread On Me" banner and there are a few "No to Tyranny" flags. Their salient characteristic seems to be an idiotic inability to clearly express what they're for or against in either symbol or slogan. They're all white though, which I take as a bad sign. They're warriors against lucidity.
We cross the Fraser river to the shining towers of Vancouver framed against dark blue mountains. It's a gloomy overcast day and there are patches of white snow on the hills sucking the sky into their cold secrets. We seem to circle the skyscrapers as if planning a surprise attack on an encampment. The Imperial, tonight's venue, is downtown and the area is pretty crazy. Hundreds of itinerant people are shuffling around stunned and lost or bent over double, many zonked out completely. It's a grim tableau of destitution and addiction, apocalyptic in aspect. I ask the promoter's rep, Lisa, what's going on. She explains that one of those care-in-the-community policy changes in the '80s brought many mentally ill and addicted people here for the mild climate. Since then it's ballooned and as always nobody seems to know what to do about it. The cause of the distinctive behaviour is Fentanyl, the effects of which I've not seen before. People bent over double as if looking for something they've dropped, people crouching weirdly, rummaging around in slow motion, stumbling, swaying. It's ghastly; a tragic zombie Armageddon. And of course, as is the modern manner, the area has undergone a process of gentrification, so amongst the armies of walking wounded you find architectural practices, hip coffee joints, fine fucking dining. Two worlds intertwined and yet an ocean apart. But going from the upper to the underworld? Well, that's as easy as ABC.
I walk down to Gastown to find some vaguely healthy food and choose a Greek place. I'm acutely aware that the window separating me from the street is millimetres thin. Everybody's in hell but some of us are hiding behind glass and pretending it isn't happening. That's what everyone in the Greek place is doing. Skating over the ice as the drowning scratch from the black depths below.
We re-cross the border at 2AM, the US immigration guards friendly and curious. What kind of music you guys play? A question that has no answer that is not somehow demeaning. The genre is rock, Mr. Border Guard, but the sensibility is indie-pop with a twist of pseudo-Americana.
I wake up around 10AM in Portland, punch "breakfast" into maps and head off to My Father's Place for my favourite thing — corned beef hash and eggs over-easy with sourdough toast. I'm at a counter on a swivel stool and happy as a pig in a chestnut forest. The waitress is a middle-aged dynamo, swooping around with the glass globed coffee jug and dispensing worldly wisdom to staff and customers like a breakfast Tinkerbell. A few folk are drinking off their Saturday night excesses with Screwdrivers and Bloody Marys. I take a walk over the Willamette river (hello again) to the old downtown, garbage blowing about its Sunday morning streets like last night's tattered conversations. As I descend a secluded metal staircase from bridge to riverfront I check my periphery as I can hear someone following me. It's a skateboarder and he says "You're ok, brother" and I thank him for the reassurance. "I don't blame ya", he says and I laugh. It's grey with a light cool wind and Portland is not fully awake. I see geese pecking on a riverside lawn, leisurely cyclists, staring street people, shanties everywhere. On the way back I pass a woman in an anorak staring down into the green river like it's told her a secret she refuses to believe.