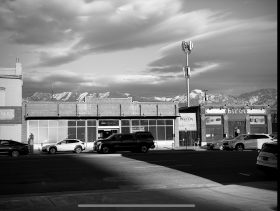 To Salt Lake City
8th April, 2022
We're off at 9AM to Utah and after a brief stint in my coffin I make bus coffee and gaze out at the dry West, dust bowl farmsteads and snow-capped peaks on the horizon. A few spindly trees mark property boundaries, some showing a fuzz of fresh green leaf. We hear news that Spiritualized, also playing tonight in SLC, have broken down, losing a tyre on the way from Denver. There's a picture online. They're stuck in a mountain pass and it looks cold and gloomy. We will be on that route later tonight (or tomorrow morning if you want to be a prick about it). The mountains loom to our left, on the right are grain silos, truck and trailer graveyards, processing plants. We pass through Ogden, its grid mapped out on the valley floor like a plaid tablecloth. As we near Salt Lake the icing dusted mountains rise around us. We pass a six-engine train hauling an endless rope of carriages, rusty and weather beaten and oozing through the territory like blood. Through West Bountiful we go, with its oil refinery looking like a science fiction film set, black tankers ferrying black liquid along the track. The snowy peaks out west frown in ancient disapproval, soon everything but they will be wiped away.
As we roll in I see that a whole new hi-rise downtown has erupted since we last passed this way. September 11th, the Afghan war, the invasion of Iraq, the property boom, the financial crash, austerity, Obama and Trump — all these have come and gone since we played here. It shows in the flawed reflections from those icy towers, the new apartments, the hipster vintage outlets, the desperate street dwellers. I walk a few huge blocks and find a record shop next to a trendy café. I flip through a few racks of vinyl but can't muster the thirst to buy. I seem to have reached the stage of life where I no longer wish to accrue but to divest. I have a houseful of shit I will never use, records yet to be listened to, books yet to be read. I've run out of time for it all.
After coffee next door I emerge to witness a smoking roller-blader in a contretemps with an old woman on a bike towing a trailer. Once the shouting's over, he speeds off like a bearded demon. A minute later I pass by a woman yelling across the street at another cyclist threatening to call the cops on them for slinging drugs. To be fair, the chap on the fucked bike does look like a dealer, skulking about with his hoodie up and his mobile phone in his hand. Either that or he's slinging Uber Eats. It's all a bit like a bad HBO pilot.
The venue has three nicely appointed dressing rooms and we are kindly supplied with esoteric snacks and beers. Beer has gone mad here since the mid-tens. Once there were about six brands each of domestic and imported beer available at any time, all brewed down to below 4%. Now the supermarkets stock walls of incomprehensible craft nonsense with wildly varying strengths. The one guarantee in life that you couldn't get drunk on American beer has gone the way of all flesh. Someone in the crowd tells me they levelled the venue we played last time we were here, probably 1995. Things change, buildings rise and fall, mountains remain. Well, for a few hundred thousand years. I keep hanging on but in the end I won't even recognise myself.