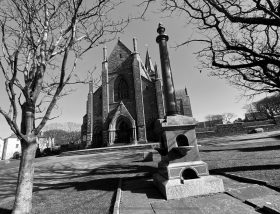 To Orkney
23rd March, 2022
Blue, blue as an egg, the sky says spring and my watch says go. I don my two small rucksacks and take the short saunter through town to our rendezvous at a hideous hi-rise Hilton, a building which resembles the ironic tombstone of a deceased chain smoker, all nicotine beige and granite black. Our deluxe van U-turns onto the grimy Glasgow urban motorway and we soon break out of the shitty city edge zones into open country, spindly winter trees clawing at the crisp air and drinking in the sun. We're en route early enough to indulge in a traditional listen to the Popmaster quiz slot on Ken Bruce's Radio 2 show. The verges are scrappy with bare bracken and some last few rotting leaves but the meadows beyond are vibrant emerald and freshly ploughed soil sparkles in the day's angling beam. The hills of the eastern Trossachs lie pale as watercolour ahead, here and there gorse catches fire in bursts of yellow flower. The road begins its long climb up to Perth and the landscape flattens and widens in a scattered arrangement of woods and fields. Up country we go, north to the sea and the islands of Orkney, coughed out like think bubbles from the top of Scotland's head.
When touring, motion is mother's milk, it rocks you into reverie and gently shakes you awake. Keeping moving reassures, tells you you're going to arrive, nurses you. The mood sours if you hit a hitch. Stasis is fatal. You must keep going. The fresh black road slides under, the horizon reels us in. These hours are filled with hope, everything ahead of us pregnant with promise.
Patches of snow appear on the blunt tops now looming around us, the soil thin and knitted with heather holding a distant hint of purple among the brown and pale green. We're on the edge of the Cairngorms, steep-sloped, treeless and bleak. The grass is yellow from its winter privation, conifers huddle tight in dense battalions and pylons march through the glens like monstrous skeletons. In the afternoon we cross the wide rictus of the Moray Firth after a swift piss and fuel stop. Onwards, up, up. Now north of the great glen, we're on the second section of our route following the northeast coast up to Britain's far top left hand corner. A flat sea sits out to our right, oil platforms swimming in the blue-grey like shipwrecked castles. I recall a writing trip I took in Cromarty, renting a little flat above an arts workshop. I took some coastal walks through cliff top woods past lichen covered WWII pillboxes. There was a natural sandstone arch down on the beach, the North Sea lapping around its feet, gulls nesting above. Not that I wrote much. Sometimes you cast off but there's not a thing to be caught.
Ahead of schedule, we make a brief leisure stop at Golspie. We walk along the beach, seaweed piled up against the bay wall like jumble. In a hardware store I buy three items I've been needing for years: a bottle opener, a tin opener and a manicure kit. Where these first two disappeared to in my flat remains a profound mystery but vanish they certainly did. I pack them in my bag like loot and we get back on the road to the toppermost of the top.
In the desolate spectral north we pass under great arcs of turbine rotors, swinging round in graceful slow-mo. The horizon is a screen of the palest blue looking like the ghost of a sea. A flock of black sheep are munching in a scrappy patch of field. The day is miles wide and the world lies beyond like an unmade bed.
Before getting in line for the ferry we have a mosey round Thurso high street. Iain buys a belt in a hospice charity shop, Andy a pair of suede ankle boots while I find a Kevin Coyne album in a little used bookshop. We're contributing to the local economy. We're philanthropists. As I return to the van a wicked lash of wind rips the record out of its sleeve and frisbees it along the tarmac. I chase it like a fool as Side 2 gets scraped along the tarmac.
On ship I take a seat by a starboard window and watch a big golden moon rise from the sea to be slashed in half by a scar of cloud. The boat makes deep lunges and lists from side to side in a swaying lullaby. I close my eyes for a few seconds. I'm still moving. Everything is okay.