To and From Philadelphia, September 22nd 2014
24th September, 2014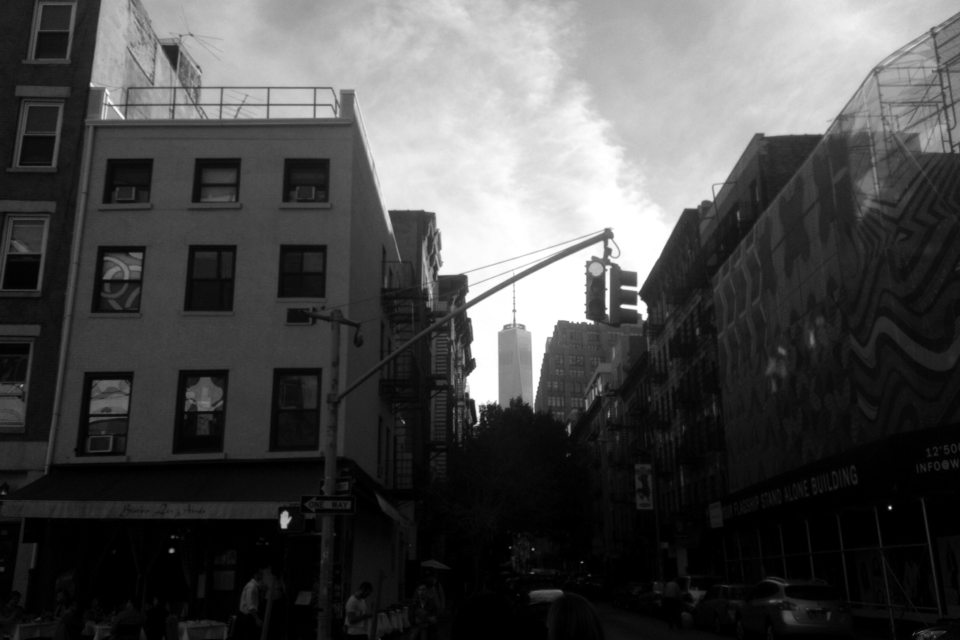 We take a leisurely amble down the 95 to Philly and seem to drive straight into the gig without deviation. The pale blue sky is tiered with those puffy white clouds from the opening credits of The Simpsons. I've done this tiny venue, The Tin Angel, before. It's a charming long narrow room with a very tight stage down at the opposite end from the bar where the toilets are. People have to file past you during the show when they need to micturate. It's good to make fun of them.
We're done soundchecking by seven and I go out to mosey around the vicinity. I rummage around a second-hand shop but it's all a bit precious. The word "vintage" gets bandied about as if old clothes mature like wine. I only wear used things because most modern clobber is so repulsive and badly made, mainly by wage-slaves. I decide to have some ice-cream in a parlour flanked by a hookah pipe place and a BYOB "vaping" lounge. Trends, fads, fashions: fuck 'em.
After saying a quick hello to Pat the record store man, an old friend from the '86 tour, we head back to Brooklyn, our first night drive. Mr. Niz gets on Spotify and plays a DJ set on a New York/ Philly theme. Finally Miles Davis plays us onto Atlantic Avenue, the music and the sights merging in perfect symbiosis.
Morning comes fresh and autumnal and on the way to a radio session we get fouled up in UN traffic chaos, cops on every cross-street denying us access so we have to keep going in wider and wider anti-clockwise circles to hit our address in mid-town. Finally we make it, negotiate security in the lobby before being escorted to the top floor by a poor functionary in a depressing black suit and tie. My heart goes out to him. We bump into two musician friends from Glasgow who are touring here with a big international act. We exchange pleasantries, shoot the shit and shoot the crow.
Tonight's venue is uber-pro. As we load in about a thousand staff set about rearranging the seating with military efficiency. A grand piano is swiftly wheeled into a perfect little cubby hole and a carpet is rolled out onstage for our acoustic benefit. The dressing room is a trip down to the basement, through the extensive kitchens and past the walk-in wine stores. They make their own wine here and I am filmed for their website among the barrels in the cellar, making my own whine.
It turns out to be a great show in the sense that the audience are hugely vocal from the off and the reaction to the first two songs sets me up for the whole night. The single thought in your head in such circumstances is, "Don't blow it – keep it tidy". You want to take the momentum from the crowd, control it and reflect it back creating a feedback loop that leads to some kind of crescendo. That's the theory, but in a 110 minute show there are going to be lulls and you can easily start berating yourself for letting the energy dip when it's just the natural undulations of the evening. You have to watch your ego. If you think you're fucking God at any point then you are about to fall flat on your face. You have to think: they only appear to like this because you've conned them, or they are being polite. They feel pity for you, they're drunk, they're delusional, they're wrong. And you have to be better, do something – anything – to make it real, hit home or find a weak point in their armoury. When you have as few basic skills as a strummer like me that's not easy. And half the time you're too busy putting one foot in front of the other, trying to get the words right, hitting the notes, to be thinking fucking STRATEGY. But some nights you can do it all and more, surf that wave suspended between petrified and calm, and bring it all in nicely. This is not one of those nights but comes perilously close.
We horse back to Brooklyn after a gossip in the green room with guests and ex-colleagues. Mr. Niz stops in at Hank's, a most insalubrious corner bar whose brief acquaintance he has made, to say farewell. Tomorrow we leave the east behind and chase the daylight down. Gods bless America and I kiss New York good night.