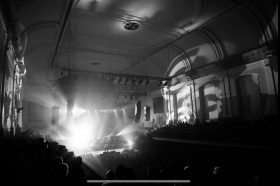 To Aberdeen
13th October, 2021
We are debating when we might have played in the granite city last. I wager it was the Music Hall the night before the millennium Hogmanay, December 1999. A quick check of the complete list on the Dels info site confirms this. So just the 22 years, then.
The black road leads us north from Glasgow, the trees ranked along the verges just starting to turn yellow and copper. Iain puts on another Theme Time Radio Hour episode as we cruise through the mizzle under a thick bruise of low cloud. Robert Johnson and the Grateful Dead sing of the devil and we slip past the distinctive turreted mounds of Stirling, the historic redoubt of this central Scottish plain. The castle sits in a bath of mist like a stone galleon. We pass under pylons marching into the murk carrying their ropes like mountaineers. Bob Dylan's voice purrs from the van's speakers, warming and wry. The road to Perth always seems a slow uphill haul to a city on a high plain. To my right a skein of geese change formation and turn south, looking a little lost in the wind. Below them Perthshire's rich soil lies lush and fecund. The sun flares through the grey soup behind us as we snake through the outskirts of Dundee, a city that always seems to sit in the sunshine. As we pass beyond the gloom resumes.
We wonder aloud about bands from Aberdeen and can only come up with the Shamen. A glance at Wikipedia reveals not many more. Strange. I dimly recall a punk/funk outfit called APB. Why should Aberdeen not have produced the same wealth of talent as Edinburgh, Dundee and Glasgow? There are more notable acts from Anstruther. Maybe it takes one or two bands to make it before you see a local explosion. I guess that never happened here, for here we are, the city shining in the slanting sun. In Aberdeen everything is made of silver stone, hard as nails, unrelenting and dazzling.
We load in and I light out, following my nose through back streets, passing barbers, charity shops and dog groomers, the proliferation of which businesses surely augurs the end times. I spot a plant-based type café and drop in for a tea and smoothie breakfast. The staff are something east/central European and I take a stab at Romanian but they could be Albanian or Bulgarian. My smoothie is a pint of green gunk with a paper pipeline for a straw and is delicious. I hoover it up like a North Sea rig sucking oil. I recall APB singing the line "…when I've done the hoovering" in one of their spiky songs. They're playing pleasant indie rock behind the counter, the Drop Nineteens or some such thing. Shazam tells me it's Nothing's Mine by Film School. I look them up to see if they're from Aberdeen. They're from San Francisco.
I recently read Sea State by Tabitha Lasley, set here amongst the offshore workers, and the city is taking me back to its ambiguous atmosphere of warped and disordered masculinity, the seamy dives and the bleak, bouncer fronted neon-lit bars. I sup my tea and head back to the sanctuary of the venue. As I leave the stereo plays a wall of chorused guitars and massed synths like an onslaught of the eighties.
I wake up between the white sheets of a vast bed. I open the curtains to a view of a huge empty car park, scrubland beyond. Ah, it's the airport. A twin engine prop plane drifts down across my view soundlessly and serene. I make a coffee from a capsule and sit and gaze for a while, watching the occasional helicopter float in. We head off at midday under broken banners of cloud. A new day, a new town; travel enriches the soul.