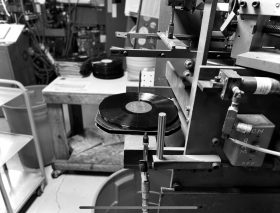 Salina, Kansas
11th April, 2022
I drop down from my bunk around 6AM, rosy-fingered dawn spreading across the plains. Gary the bus driver pulls into a vast shed where several men with angled hoses spray us down like a pit stop in an episode of Wacky Races. I crawl back into bed till 1:30PM when we are scheduled to go on a tour of the Acoustic Sounds high quality vinyl pressing plant in Salina. The tour proves fascinating. Having visited a CD factory in the zeroes, the contrast is striking. The manufacturing of vinyl records is a far more hands-on thing. For a start, here humans are key in every step of the process while CD factories are devoid of people on the floor and are essentially run by robots. It doesn't look like a bad place to work at all; from the making of the mother mould and her stampers, through to the pressing machines themselves to the sleeve assembly and the warehouse. It's incredibly tactile and physical. People are shuttling materials all about us. There's even a little room with a record deck and pair of speakers to check for persistent audio flaws. It all feels rooted to the music, there are discs and album art everywhere. We're then taken to a gorgeous little 100-year-old church the company has bought to host gigs and record direct to disc, the ultimate audiophile recording process. They have a bank of Ampex 1/4 inch tape machines set up for copying commercial releases in real time. I've never heard of such a thing and fantasise about hearing a pristine 15ips version of say, Astral Weeks. These guys do that kind of shit and put a lot of love into it.
The venue, the Steifel Theatre, is a similarly lovingly restored building. Once a cinema, now a board of trustees runs it as a live music theatre for the good of the town and to the advantage of many touring acts looking for a decent gig between the West and Midwest. We're looked after with effortless generosity. We make off with all sorts of goodies supplied by the kind Steiflers — beer, tortilla chips, cupcakes and two bottles of Patron tequila.
I wake around 5:30AM to find all aboard asleep and all tequila gone. The bus bumps on through the night. Our rest day is in a shopping mall outside Davenport, Iowa. A few lost snowflakes weave through the air as I jump off the bus in the afternoon and get orientated. More featureless highways, parking lots, chain restaurants. I wait for coffee at a café in an enormous book shop but nobody appears. I use the restroom and there's nobody there when I come out either. I buy some shirts in a vast TK Maxx which will have to serve as today's entertainment. This isn't anywhere, I don't believe. It's just capitalism with all the culture taken out. It's the opposite of heartwarming. Soul chilling.
To accompany my Cary Grant biography I watch Holiday from 1938, realising I've never seen it. The dance of love and desire between Hepburn and Grant has an ache rarely expressed on screen. A small teardrop coheres at the corner of my right eye, the memory of what falling in love feels like. The swoon of it.