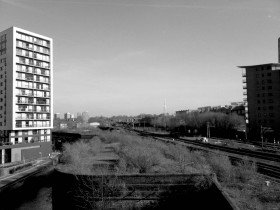 Sale, February 18th 2013
19th February, 2013
What is Sale? I'm here, in Sale, I'm walking through its – what are they, streets? but I can't determine what it is. Is it a town, a suburb or an industrial service zone? There are homes and businesses of every sort – built in every decade of the last one hundred and fifty years – a seventies high-street, a revamped canal and a futuristic multi-storey car-park. The Arts Centre is new but it's stuck to a town hall which was perhaps built in the nineteen-thirties. It is a mad conglomeration, strewn haphazardly about some ancient snake-pit of a street plan. It is so odd and uncategorizable it's almost charming. I feed some pita bread to the ducks and pigeons at the canal as we wait for get-in. I try to be equitable. I don't wish to exhibit any favouritism.
Between soundcheck and show we check-in to our Manchester city centre hotel. It is a shock to be so suddenly urban. This part of the city is swarming with new architecture, mainly mid-rise residences but there are towers crammed with terminals too. It is all unashamedly modern and ambitious. Something is happening here and I don't know what it is, do I Mr. Wilson?
The hotel is busy with young drinkers after the gig – urbanites all – so room service is backed up. Starving, I go looking for post-midnight grub. The only thing I find is a Pakistani place with some delicious looking food laid out in a display cabinet. I opt for a mixed kebab type thing by pointing and shrugging. Nobody seems to speak English which is refreshing. The place is bubbling with pan-asian flavour. I read some Urdu free-sheet as I'm waiting, which is filled with ads for immigration lawyers and halal meat purveyors. There are three articles in English, two on petty crime and one about cars. And a picture of a cricketer. It's better than The Guardian.
I sleep for a long time and wake up in the middle of a dream. I had administered a drug called Vulcan to a jet-lagged friend which turned out to be for aborting foetuses. My friend being male, I discounted the seriousness of this information. How are you feeling? I asked him. Pretty good, he replied.
Manchester is stage-lit by the low morning sun. I crawl out to explore. There are impressive new erections everywhere. The BBC's decentralisation seems to be having an impact – it feels a little more like London very time I visit. But I weary of walking early on and dump myself in a local restaurant for a long lunch with a newspaper and on the way back attempt to buy some undergarments without surrendering my post code, which proves tricky. What's my post code? Just give me the pants and take my cash, Fuckface. What's YOUR fucking post code?
Tonight we have a Chinese meal planned. Table for three, please. We saunter around the block in Chinatown a few times and plump for the first one we fancied. It's fitted out like a baddie's lair in a sixties spy movie. Later I watch the second half of an FA cup replay, Manchester United as it happens. I catch sight of myself in the room's long horizontal mirror behind the laptop screen. Lines crawl around my eyes as if some demon is behind me trying to claw them out. Or drag me back into the hellfire of the past.