Phoenix to LA, LA to San Francisco, October 4th – 9th 2014
10th October, 2014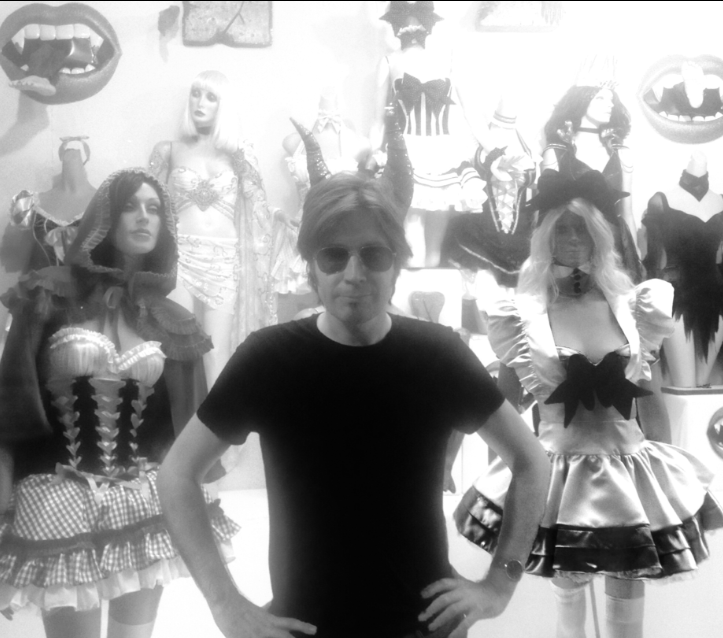 We load into the van at eleven for the seven hour drive to LA, the mountains of the southern desert brushed with pale green and sitting out at a distance on either side of us the whole way. I nod off and dream of backstage corridors and hotel fire escapes and awake in the snake-pit of LA's freeway system. The I-10 virtually takes us door to door, from our Phoenix hotel to McCabe's Guitar Store in Santa Monica. This is a renowned gig for its setting – the acoustic guitar room of a music shop – and its unique and intimate ambience. Lincoln, an urbane and witty man who epitomises So-Cal cool, gives me the run-down on the place's history which is illustrious and quirky in equal measure. The backstage corridors are covered with photographs from LA music history. I stare into a black and white print for a minute, utterly mystified, until I realise it's Gram Parsons. Our dressing room is one part case store and one part tuition room. There is a tiny stage, about three foot square, which Cat Power, allegedly, thought was the gig itself. This is one of the best things about talking to music shop proprietors – the gossip. But they'll never be Manhattan.
It turns out to be one of those broom cupboard gigs where you can't hear the room at all, just the muffled, dry sound of the monitors. The audience are very quiet, probably because they feel exposed in such a small, dead space and assume we can hear their every utterance. It's an exercise in mutual embarrassment. But it has its moments nonetheless. Somebody asks me to tell a story, which humiliates me, because I can't think of one I know. Or if I could, know it wouldn't be worth telling. It's a good heckle, though, and sets me thinking. This is an occupation, I know, which demands such skills. I don't possess them. Perhaps it's time to learn. But I'm not a faker and I won't be told what to do. I have faith that my limited menu is enough to make a meal. So what if the customer is always right? Without me he don't get fed tonight.
The following three days are a blur of beer and mayhem. The Largo show is pretty good and afterwards Mr. Niz and I do decent damage to our respective mini-bars before venturing out to the Gaylord hotel bar the following evening and attending a show by a Glasgow band at a spectacular former cinema downtown which resembles a cross between Cologne cathedral and Santa's grotto. I bail before the band appear as I feel a bout of insanity coming on. The fever ensues.
On the Tuesday I meet up with old friends from LA and their delightful kids. We have mad Korean food, every little dish and morsel tasting like nothing I've ever tasted before. The heavy full moon floats in the black Los Angeles night pulling all our tired tears to its dry heart. I say fond farewells and lie sweating and twisting in my sheets till take-off time at ten AM.
The touring party is as disheveled as an unmade bed. We cruise through the hills north of LA in fair fettle – their purples, moss-greens and mustard yellow grasses soothing our sour souls, but by the time we're on the straight dusty freeway, passing through the ghostly valley dust bowl, we are flagging big time. The drought without takes hold within. We take shelter in a big Danish/French restaurant off the interstate, whose signature dish is split pea soup. Its shop is stuffed with awful trinkets but the fare itself has some benefit. I notice a little sign hanging in the kitchen for the sake of the floor staff: Water to be served only on request. We re-mount a little more lively but it's the last long drive and my heart goes out to resolute Mr. Fudge who has single-handedly driven six thousand miles in less than a month. Mr. Niz and my only contribution has been to annoy him with our music occasionally to keep him awake. His achievement is not to be sniffed at.
Mill Valley, the locale of the first of our two Bay Area shows is as chi-chi as goddamn chi-chi gets. The neighbourhood looks like Hampstead in paradise. We are told of its many famous residents, one of whom is reputed to be Van Morrison. Nice to know somebody else is lowering the tone. The venue is reminiscent of a swanky nightclub from a film noir, except it's painted in darker colours and I am no Rita Hayworth. Lights twinkle around the bar at the back of the room and during one number I am outplayed by a barman with his little solo on a cocktail shaker. The crowd are the best sort of boisterous – cheeky, sarcastic and in the mood to be entertained.
We chat post-show to some friends from Scotland who have lived out here for five years. The subject of the referendum comes up, inevitably. It suddenly seems so long ago. Was it a fever dream, was it a folly, a lost episode? We were drunk on the thought of freedom for a few months, now we're in the tank, dosed on depressants and the doctors are feeding us bad potions.
I sleep as late as I can the next day, our last, before meeting another old friend for lunch. It's been a very sociable tour. I have missed my American friends more than I knew. After soundcheck I take my last amble about the streets. The drag that the gig is on is immensely up-its-arse; lots of I-Saw-You-Comimg shops, horrendously hip restaurants and wildly expensive specialist furniture outlets. One gaff seems to be touting dead critters encased in Perspex as some kind of interior design philosophy. Their flagrant chutzpah is almost admirable. One block over and it's a different world – thrift shops, mini-markets and seedy looking walk-ups with "Vacancies" taped to the gates of the stairs. Here you don't need reservations. Mission Street is dark and gloomy and enormously preferable to the hipster hellhole one street away. But I'm a fucking hypocrite because where I live there's no angst or pain. Just middle class wankers walking their dogs and students drinking lager. I don't want to live on Mission Street. Nobody does.
I do a loop and find a Mexican corner bar with a mariachi band trumpeting out the customers' requests. I order a coffee, which they brew for me and comes in a massive cup on a plate with a saucer of milk on the side. The gluey colloid is so thick it tastes like Tarmac carpeted to a chocolate cup. I throw in the dish of milk and drain the bastard into my gullet for the sake of the song. My friend, Alex and his friend, Suki drop in and we shuffle a couple of doors down for some vegan fare and carrot juice. Farewell, farewell. The three of us laugh and try to exchange as much information as limited time allows. Limited time.
As I walk on for the final show I breathe the little crowd's atmosphere. It is my useless attempt at savouring the moment. But in the middle of a song, halfway through a fine gig, I amuse myself at the slow-motion dance of motes of dust caught in the stage lights. I feel my face wrinkle with pleasure inside the outward facing mask. I am for once, as they say, in the fucking moment – a place I never visit, least of all on stage. Or perhaps I should say, most of all on stage, because on stage the moment is happening every millisecond and disaster is ever near. Performance is one long balancing act, an egg and an axe constantly in the air, a bottle wobbling on the upturned nose. Not looking down is not the issue, not looking IN is the demon to be kept at bay. I do a little shuffle, a bend of the knee. I'm a showbiz slut and a pleaser of people. I'm the fly in the ointment and Singalong Sam. I'm a songwriter and a singer and I am a desperate man.