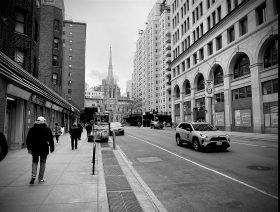 New York, New Jersey
19th April, 2022
I cannot muster the enthusiasm to emerge from my cotton sheet cocoon until late afternoon. I make out for the ferry crossing that lies north of the hotel but getting there I decide to avoid Manhattan for today and head west on a pedestrian bridge over the waterfront highway and railway taking a metal staircase up the cliffs to explore Weehawken. I hear some rustling in the undergrowth and spot an opossum grubbing around. I cut through a beautiful neighbourhood of wooden houses and at a main road am beckoned into a Mexican bar by a young guy who's taking out the trash. I explain that I can't scan the QR code he points at so he shows me the menu on his phone. I get him to recommend something as the worst band in the world strikes up in the back room. After I order I take a look. Two very elderly gentlemen, a drummer and guitarist are murdering I Think We're Alone Now. They're The Shite Stripes. They're the Elderly Brothers, The Slack Keys. They move on to decimate Let It Be and Why Do Fools Fall In Love. The staff are keen to ascertain my opinion of their food. My thumbs up elicits a fist bump from the young guy. The thing to do now would be to phone the band and crew and spend the rest of the night drinking the bar dry. But I'm of the Shite Stripes generation now. Early to fucking bed.
I circle back past the remarkable neo-renaissance Weehawken water tower and land satisfyingly back at base. I take a bench on the bank of the Hudson that looks into the Island, noticing the trend for very tall, narrow towers — almost like Rubik's cubes stacked impossibly high. There are monstrous behemoths too, utterly ignorant of the 19th century and Art Deco traditions of New York. You look at the skyline now and you don't think King Kong, you think Dubai. Do buy. The toppling of the twin towers was the unmooring of Manhattan. It has slipped the bonds of its own identity. Perhaps tomorrow will bring a fresh perspective.
We cross under the river in the Lincoln tunnel without a hitch and are soon at the venue. I orientate myself from One World Trade Centre to the south and walk round the block till I'm sure which way is up. I munch a breakfast croissant in a place on 6th Avenue and sit in a little pigeon infested park and try to think where to go for the next hour. Aimlessly I trip round the streets of the West Village then return to the mothership for load in. The club, Le Poisson Rouge, is one of those big basement places, with decent ceiling height and a sort-of dance floor of fake wood glued onto concrete. It's painted red and black (Le Poisson Rouge et Noir?) so resembles the Batcave if Batman was a bit of a goth. Which he kind of is. We once had a sound man called Gonzo whose mother was so superstitious she excommunicated her daughter for installing a red and black kitchen. It's never a great combo — think fascism, think blood and death, danger and darkness. Think cheap bondage parties.
Off I trot once more, up to Washington Square Park where once we busked in penurious desperation and over to the East Village which has gone very Japanese since I last trod these streets. Memories come echoing back at every turn: watching a girlfriend scoring a ten dollar bag of weed with a silky sliding of palms, catching cabs driven by insane Indians for late drinks on the Lower East Side and Alphabet City, pouring out of basement bars at 5AM. According to Iain many of the Manhattan rich have holed up elsewhere since Covid and, trailing around these prime real estate neighbourhoods, I see less conspicuous bling than previous trips. But just as I'm noticing this a baseball capped woman walks her dog from her front door to the gutter for it to piss, turns and re-enters her lobby as the liveried doorman holds open the gold and glass portal. All done, she mutters. Stupid spoilt little mutts.
After soundcheck I order a slice of margherita and sit in one of the little sheds that line the streets, a welcome pandemic inspired development. Electric cyclists and scooterists are everywhere, reaching rapid speeds and contravening every traffic law you can think of. Earlier I watched an upright man in grey helmet and shades carve through a major junction on a powered wheel, blasting seriously scratchy EDM from a speaker on his back. He must have been doing 30. As darkness descends light rain falls. The narrow streets of the Village start to buzz with pre-drink and dinner energy. People are ending long journeys and getting to the bars and restaurants where they will unwind with friends. Lights in trees sprinkle dappled patterns on the slick sidewalks. New York is coming alive.