New York City, 21st September 2014
22nd September, 2014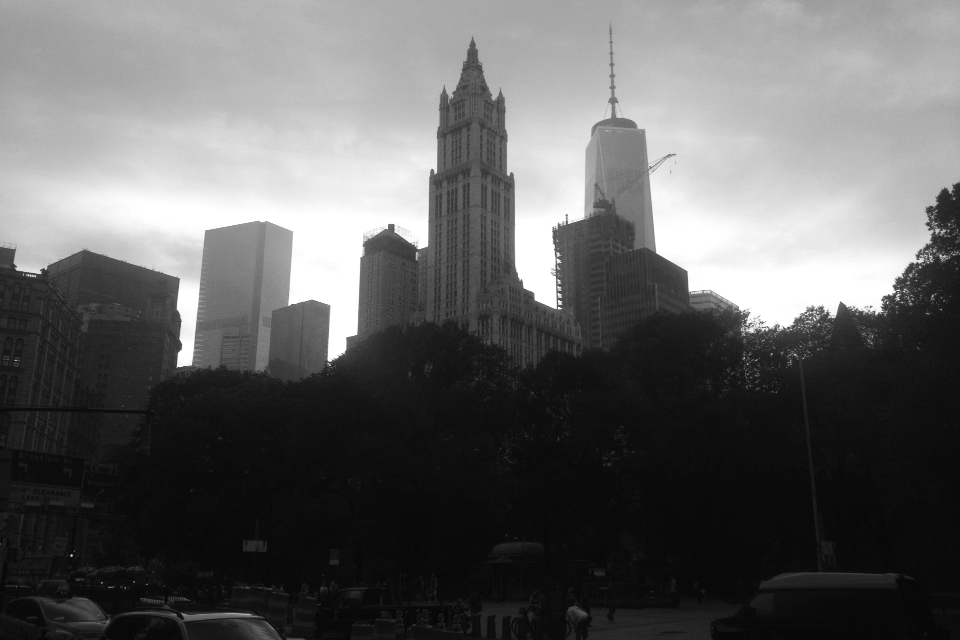 Around lunchtime I take a walk over the Brooklyn Bridge dodging through the streams of tourists on their Bloomberg bikes. I cross the narrow tip of the island to the west side and seat myself in a restaurant on a corner looking onto a small park. The new One World Trade Centre looms over me, its pointed hat in the clouds. I can't fathom its scale at all. For all its claim to be the highest in the Western Hemisphere it looks more like a chubby than a stauner to me. My table offers a strategic people-watching panorama. An ancient Chinese woman sifts through a garbage basket, her trove of refundable cans and bottles in an enormous plastic bag at the end of a pole (with a counterweight at the other) that she balances on her shoulder. A twenty-something couple straight out of a Vanity Fair advert walk past her, utterly oblivious. Later I spot her young assistant who is loading and sorting their haul into a shopping cart. A middle-class pram-jam piles up around my table. A man walking past is saying into his phone, "I'm a graduate of Crown University, 1972" and a whole world opens up in my mind. It's sultry now as if rain is hanging in the air in microscopic droplets. My skin prickles. The abiding theme of my little corner watch point is dogs and prams. In Brooklyn I passed by a pet grooming centre. In the window there was a line of low-wage workers primping and combing the hairstyles of tiny dogs. If it wasn't so hilarious you'd just see it as obscene. Down the block was the hideous nightmare monolith of the "corrections" centre. What a venal euphemism for punishment that is: disobedience will be corrected. The paradoxes and absurdities of the system smash shamelessly against each other in places like New York. The rule says that as long as it all functions then the appalling disparities don't matter. How can they possibly not matter? The dollar bills I add as tip lie flaccid and greasy in the fake leather wallet containing the bill.
I walk up the west side along the river and watch some seven-a-side football in Hudson River Park Pier, a strange square structure in which a patch of AstroTurf sits. There is one woman playing left back among the boys and she's very good, and has obviously played a lot of elevens. Her teammates keep letting her down and leaving her exposed but she's good natured about it. I get bored and walk across town stopping to watch a competitive dad fling pitches at his son in a park. He has an endless supply of baseballs in a holdall at his feet and the outfield is littered with evidence of his kid's high hit rate. Ping! Ping! His metal bat connects every time. The fucker will end up a banker or a broker. If I had a dad like that I'd become a clown.
I duck into the Our Lady Of Pompeii church on Carmine Street where a priest is giving mass in Italian to six people. He's hardly audible above the chorus of horns outside. Seventh Avenue and Houston have reached logjam and the cacophony is far from heavenly. A congregant slips out of her pew to close the door at the back. I rejoin the throng in the West Village and take further refuge in a small square to watch the pigeons peck. I'm tacky with sweat and poisonous particulates and regard the fountain with some desire. I'm sitting at the crazy confluence of Sixth Avenue and Bleeker, Mineta and Vine Streets, the patch where the grid breaks down and cab drivers lose their bearings. Fire trucks wail by and sparrows flit about like excited children. The Village still has a little soul left, I reckon. Enough small shops and bars have survived the great sanitisation and remain un-Disneyfied. There is enough grit left un-pearled.
As a weave my way back to downtown Brooklyn I see this:
A six-piece pub band playing The Beatle's I'm Down to ten people in The Bitter End
Two very fashionably dressed middle-aged men in SoHo, one asking the other, "Is it your BALL SACK?"
Long queues of buffoons at the Apple store
The top of the Chrysler building peeping out at the end of Mercer Street with its surprised eyebrows
Two skinny rich women eating cupcakes on the sidewalk with their painted fingers pointing out like antennae
A gang of scammers at a riotously busy intersection running the ball and three cups con
The subway rattling over points beneath the grate under my shoes saying, God-forgive-me, God-forgive-me
As darkness falls a cab comes scraping up a Brooklyn avenue with half its front end sheared off, ploughing sparks, still for hire.
I have softened my opinion of Freedom Tower. It roots downtown the way the originals used to, a landmark around which all can navigate. From some angles it simply appears as if one of the old towers is still there but with its corners sliced off with a sword. It's a little wide around the bottom, but who isn't? It has inhabited that awful absence that was still a shock to me last time I was here. So, sure, it's a fuck-you to those that will America's downfall. But in New York that's allowed because the doors are still open and you can make it here, with a little luck, no matter where you came from. And no one cares who you are and they let you be.