Minneapolis to Dallas, September 28th to 30th 2014
30th September, 2014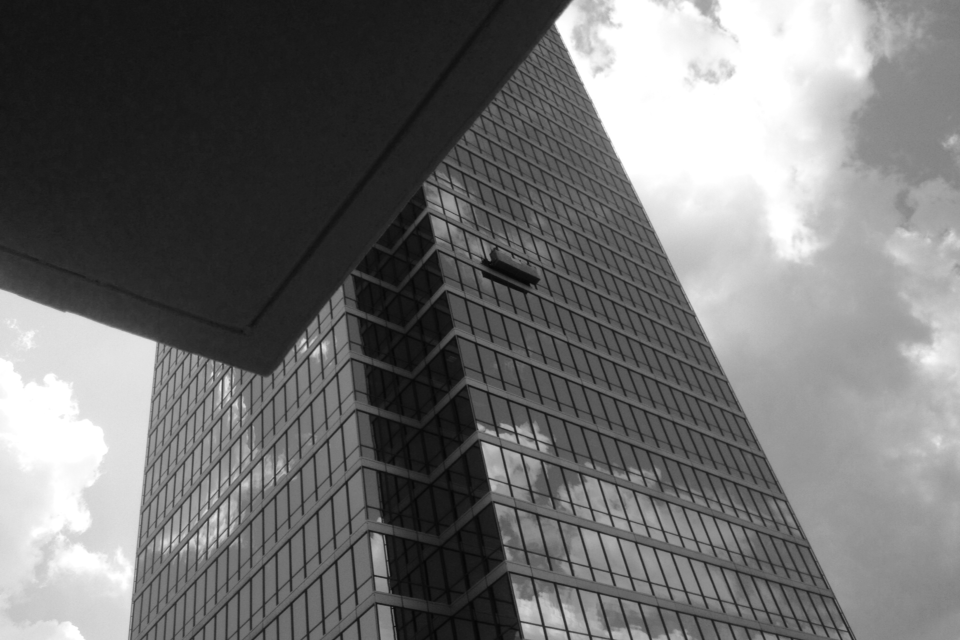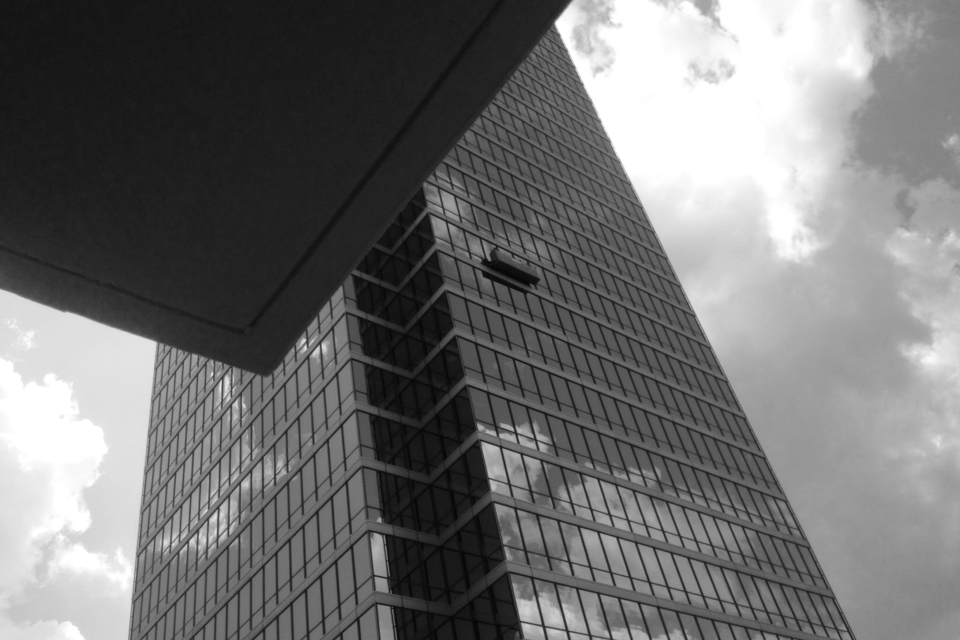 We leave the Twin Cities early and are in the sticks in no time. We look at the map and follow a long straight line to Kansas City where we are stopping over en route to Dallas. The highway bears us over shallow inclines through fields of cereal without deviation for four hundred miles. South of Des Moines in Iowa it gets a bit more scrubby and wild. As we head south we leave all signs of autumn behind and are frequently tracked by Vs of ducks flying alongside like banners.
Kansas City suddenly appears on the horizon like a tombstone in the sun. The hotel, The Aladdin, is a beautiful Art Deco structure built in 1925 and my room on the 11th floor has windows on two sides and is remarkably smartly decorated for a Holiday Inn. The maid has fashioned an African elephant from a towel and placed it on the chair. It lies there like a little bleached corpse. I take a wander around the edifices of downtown finding some wonderful early 20th century architecture. It's ghostly until I stumble on a sports crowd in a modern square, drinking and dining. There's a band plugging in but I don't wait around to hear what they do.
It is gloriously warm in the lowering sun and I consider myself lucky to be here, lucky to have work that I love, lucky to be in love with a woman three thousand miles away and lucky to hear applause. I didn't make this luck myself, it was magically bestowed upon me by the madcap actions of chance. I don't feel I owe any debt of gratitude, I just find it surprising. I'm not even a very decent man. I'm just a user, a consumer. My sum contribution to the human race is zero, yet nobody berates me for this, nobody even notices. The universe is a dreadful joke and all the laughter hollow in the face of its relentless harrowing.
At ten the next morning we strike out for Texas passing through the limitless high plains of Kansas and Oklahoma. I read about the dustbowl, shocked to learn of the scale of the devastation in the 1930s. It was an agricultural apocalypse generating one of the great mass migrations in modern history. Since Roosevelt's reforms the prairie grasses have regrown and the shallow soil looks well bound and solid from the interstate. There are very few crops to be seen, the vast bulk of the US's production now out in the irrigated west. It's a pleasing enough five hundred miles and we pull over for some barbecue at Smokey Pokey near the Oklahoma State university campus. We wonder whether the waitresses have ever been out of the state. By their utter confusion in our presence we think not. They are sweet girls with wide smiles and exhibit an innocence rarely seen in the cities.
Dallas is high with heat. We head out for Mexican food and afterwards, walking back four blocks to the hotel, see not a single soul in the street. Mr. Niz and I swallow a few cold beers at the bar while the multiplying car crashes of American football play out on screens above our heads.
I am awoken by industrial growling from a building site twelve floors below. I peer gingerly over the lip of my balcony and watch three men struggle with an enormous mechanical concrete polisher, frying inside their hi-vis tabards. On the mirrored tower opposite four window cleaners, fifteen storeys up, bounce around in their suspended gantry. It looks dangerously overloaded until I realise there are only two of them, each one perfectly doubled by their reflection. They work with an extraordinary alacrity and I can only presume they get paid by the building and not the hour. These men give corporations their gleam of respectability. They wash off their filthy lie.
The heat begins to build a tower of its own, the clouds simply flinging back what rays get bounced up from the glass and concrete. I feel the sun begin to singe my Scottish skin. I'm no tanning freak but Jesus, in September, this feels good.