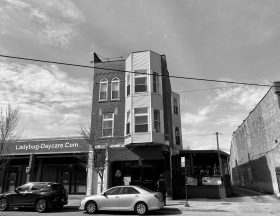 Milwaukee to St Paul
12th April, 2022
In Milwaukee I spend a few hours catching up with Bobby T, an original eighty-sixer and friend. We have wraps wrapped up on the waterfront of the inland sea of Lake Michigan. We have two shows today, one at 4PM and another at 9. Kris thinks the first show was better than the second and who am I to disagree?
I take an early bath and wake up late the following afternoon in Minnesota where I am kindly driven off to lunch with flower lady Jodi, who's been gracing us with her gorgeous company and stunning bouquets since the nineties. It's nice to get off the boat for a few hours. Back at the Fitzgerald Theatre in St Paul I go for a wander along the Mississippi and around town, Florence and her Machine glowing flashily from an electric billboard bolted onto the Enormodome. St. Paul has a small but handsome (non-grid) downtown with a few beautiful Art Deco blocks. It's warmed up enough to allow me to take a stool at a little open-air bar. Two staff members eye up the police questioning a homeless man and I remember this is where George Floyd was murdered (or St Paul's twin, Minneapolis). "My" barman has a super chilled Harry Connick Jr thing going on and won't accept money for the coffee he's served me. "Have an awesome rest of your day", he hails. I'll try, Harry and thank you.
The Fitzgerald Theatre is another spruce, refurbished early 20th century survivor owned by First Avenue, the Prince associated club everyone used to play. It's all uber professional. I watch Kris opening the show from the stage right wing and am taken by the dexterity and soulfulness of his turn. It's his best yet and I sense enormous warmth from the audience. We leave them standing at the end, whether in a rush to catch the last bus or moved to ovation is not for me to say.
I wake up around 7:30AM and sit in the front lounge watching the Illinois farmsteads pass, the grass brown from months of snow. I reawaken around lunchtime in the middle of wonderful Chicago. I have some falafel with mate Mike and his son Sam, who has just released his first album. Then I go sneaking off to get some sun on my skin, sitting on a gaily painted picnic bench at the back of a coffee joint called Dark Matters. I gaze at a pair of sparrows pecking and hopping around in a sickeningly cute fashion. Such signs of sentiment must be suppressed. Softies buckle on hard rock.
After soundcheck I'm off on foot once more, soaking up the warm spring sunshine and Chicago's laid back vibe. I meander through pretty brick apartment blocks towards the lake and am temporarily stymied in my mission by an enormous netted-off area containing rampant golfery: fools whacking away at tiny balls with comically ill-designed implements. I'm uncompromising when it comes to golfery. I believe all golfers should be deported to a man-made island somewhere stiflingly hot and forced to work at the desalination plant every day to produce the water to irrigate all their greens and fairways. They can play all the golf they want but they must work at the plant seventy hours a week. They can call it a clubhouse if it makes them feel any better. Just fuck off away from me.
Chicago is reminding me of London today — all those low lying neighbourhoods spreading out from the city, trains rattling on overhead tracks, corner shops, tree lined residential roads. Its not as vibrant and international here maybe, but it is less stressed — calmer and cleaner. These are shallow observations because beneath the surface of every city is poverty, agony and despair.
I walk under Lakeshore Drive and dodge the joggers and pummelling cyclists to reach the waterfront. Lake Michigan is a blue mirror barely lapping at the shore. Planes, in pairs, are coming in from the east to land at O'Hare behind me. Promenaders squawk into invisible microphones in their earpieces. A few dreamers stop, sit and stare out to the thin white line where the lake meets the sky.