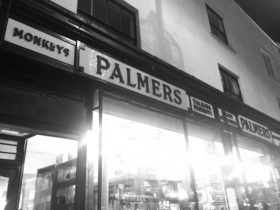 London
6th November, 2017
So to London, choking snakepit of billionaires. Our abode is way uptown, a barren tower in a morass of roads and malls. We briefly check in then squeeze through the ooze to the venue, the Jazz Cafe. It's a new one for me and very reminiscent of US style jazz clubs, the stage stretched across the long side wall so all the punters are within earshot of at least one soloist. The balcony looms over the stage like a frown and during the gig you get the impression that the audience is on top of you and sitting in your lap. It's quite hard to perform to a shallow room when, like me, you tend to project everything towards the back. You end up playing to a wall.
In the early afternoon I decide to walk from Brent Cross to Camden, marching right across Hampstead Heath. I meander uphill through thicket lined paths, eventually coming to a clearing offering a striking view of the City and London's gang of blank-faced, belligerent towers massing on the horizon, threatening catastrophe. The city is unbelievably hushed up here. The only audible sounds are flurries of birdsong floating upon a vague wash of traffic. Occasionally there's the whirl of a siren, or a landing aeroplane droning beyond the layered cloud. Above me fissures of blue are opening like cracks in sea ice. The world is so still and arrestingly beautiful.
Before leaving the sanctuary of the park I notice an odd squawk descending from the branches of a plane tree and manage to pick out a pair of green parrots perched in the foliage. How queer, I think. I horse on through Highgate and Kentish Town, stopping at a vegan place for lunch. It's the first commercial establishment I've ever visited that doesn't take cash. I wave my bit of plastic at a sleek terminal. I thought cash was king but it seems soon it will be vermin ripe for eradication. I'm very wary of this. I think it is an assault on our right to remain unmapped, unlogged and unfettered. It's the point at which the data-rape pricks of Big Tech will run the world. This is an unoriginal thought but depressingly accurate. Suddenly I'm back in the dense twist of Camden. I wait for the others in a tea shop beside the venue. Tea is the new coffee. I order some clove-clotted concoction which is a little sickly for my taste but I'll try anything once, me. I have a niggling red wine headache and feel a little wan. The place is full of laptop leerers. It's tremendously middle class. Outside on the street I look back and notice that I've been sitting in an old pet shop called Palmers. The original sign reads, "MONKEYS — TALKING PARROTS".
After the briefest of soundchecks I head back into the London night. Commuters spread through the interchanges like locusts. Everything is go. I pass a defeated looking woman half inside a tent, nodding my usual worthless acknowledgment. It's a termite mound ruled by right-wing rats; it's a farce, a con, an inferno. London is an engine for filling graveyards with the bodies of the rich. The poor are rendered dead already. But beyond the loathing and injustice, London is beautiful and its people are invincible. London is life, and we'd be well served to remember it.