Leeds to London, November 16th-19th 2014
19th November, 2014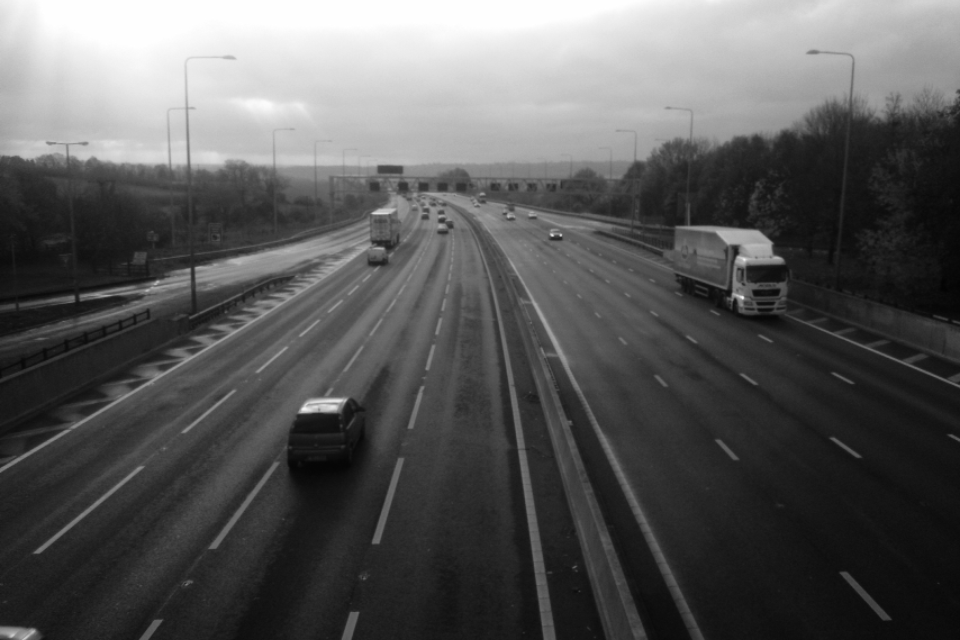 After four nights in the same hotel in Leeds it's refreshing to be back on the road proper. It's heavily overcast and muggy, the southbound traffic sluggish. With three shows left there's an air of weary resignation in the van. My body, on waking, felt like a block of hardened rubber, as if some entity had poured moulding material down my throat in the night. I've set stiff and sit like a bag of cement in the front seat. I need a drainage contractor. A dim orb of pale grey hovers in the gloom above like a ghoul. Tiny spots of rain collect on the windscreen like alighting insects until, forming too dense a firmament, they are swiped away. A sunbeam strikes through ahead with an abracadabra and, peering upwards, I see a flat white disc; our furnace star reduced to a glinting tiddlywink.
The Yorkshire town names appear on signs – Rotherham, Barnsley, Sheffield. They have their own accents built in. As a shire it is still distinct, rugged and untamed. It has a stubborn unwillingness to be southernised and poncified.
We hit a hold-up and are stuck behind a Carlsberg truck whose back doors depict an unappetisingly vast glass of cheap frothing lager. I feel queasy as a seasick buoy. The grim mattress overhead breaks into clumps and a light blue afternoon appears. Colossal pylons stride around the motorway like skinny Space Invaders spooling thick ropes of metal from fleshless skeleton hands. The black road flashes bright silver with a blinding suddenness until winter prevails, the clouds close their arms about the world and everything is grey again.
We dock in an out-of-town Hilton which we recall from a few years ago; its white piano warning off players (with a stupid sign) and frozen corridors, frigid rooms. It's a suburban conference centre. Anyone married here will divorce within the month. We clear out for load-in grumpily. At the venue we are stymied by a student play rehearsal still in progress on the stage. Tea is made and everyone slouches around the dressing room like poor cunts at a youth club waiting for life to begin.
It's not a venue I could ever love. It has the soul-crushing air of a lecture theatre and during the show I feel like a living autopsy. The audience are stacked around me in tiers like multiplying jurors. The spotlights shine from such an acute angle that I can only see my own fringe hanging weakly in front of my vision the whole gig. It's impossible to engage, though the audience try and I'm grateful they bother. Me? On a Monday night in this venue? Shit, it could be the Beatles and I'd go straight to the bar.
A motley collection of various guests comes backstage and I enjoy a speed-date chinwag. I meet a solicitor whose entire caseload is fighting for clients suffering from mesothelioma, the ghastly lung cancer caused by asbestos. He tells me that one industrial plant alone has been responsible for ten thousand deaths. He speaks with a Brummie accent and looks like Noddy Holder's little brother. He is instantly my hero.
Tuesday morning brings blue skies and the angled autumn sun. I hang outside the van for a moment basking in the splendour. My skin prickles with delight. London calling, La Grosse Fumée. The journey skips by and in an instant I am roaming around a surprisingly spacious suite in a Shepherd's Bush hotel. It's all leather sofas and glass partitions, with the bath by a big high window facilitating rampant exhibitionism. I'm the hippest whore in London. Sadly – saddest of all – my Scottish pimp will be absent. They have done their back and the flight down is impossible. O solo mio. I try to fight the loneliness by filling the suite with noise. Like wallpapering the fissures in an Alp, it's a redundant measure.
I smart awake at eleven, the air-con furnacing like a non-stop afterburner. I do a little housework, clearing yesterday's modest mess. Daylight steals from the curtains' corners, leaking grim reality into my apartment. I run the little lawnmower of my toothbrush vainly over the greenery of my teeth. Like an oligarch with an itch, I know something's wrong. Then I remember: I am undeserving. Gratitude and humility serve no real purpose. I am in this life's debt.
There is no birdsong beyond the glass. Shepherd's Bush with its concrete sterility camps around me like a boundary guard in a foul mood. Along the Uxbridge Road, Eritrean, Polish and Lebanese outlets crowd into available space. London is liverish and stale but the margins sidle centre-stage and take up the gaps like fresh green grass seeding between slabs. I don't know where the rich run to, I don't know what they think, but I know they find death a hideous shock, I know they have a terrible surprise waiting – I didn't order this and I cannot cancel. It is the deep resentment of their class – the impossibility of controlling mortality – that will be their undoing.
I hear furniture squeak above me, the chambermaid's daily dance. My suite is hushed and darkened in a facsimile of luxury but what it truly is, is a poisonous waste of space. In time these windows will all be out and nature'll bloom like a spreading cancer in corners, then surfaces, then hang from the walls. I can see my non-existence clearly: it is nothingness. And I can also hear a concrete hollow swarming with the singing of every bird.