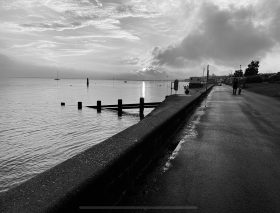 In Cardiff, to Southend
14th September, 2021
We head straight for the stage door, leaving hotel check-in for later. I scope out the venue and find a fast staircase back to the street. I take tea by a little food truck and watch the passers-by. I see Kris march past single-mindedly. He has a new bag. I also have a new bag. This, I feel, betrays a quiet optimism.
I walk into a Victorian indoor market and browse through the racks of a large record shop on the balcony, fleetingly stopping at a few sleeves. Little of the stock is original, it's all twenty quid vinyl revival reissues most of which is probably cut from dodgy digital masters. I try to visit the city castle but the security man at the gate says "Last entry free" which confuses me until I realise he means "three". I look at my watch. It's a minute to three. I get back into the venue by the front door, surprising a couple who have just bought tickets for tonight from the box office. Old school. We used to get the bus into town on school lunch hour to queue for tickets at the Glasgow Apollo. Everyone was in uniforms later to be transformed into young punks when the time came. You'd see guys in workwear, schoolgirls with skirts and blazers tweaked to suggest the new wave, boys like us with our skinny school ties denoting our alternative tastes. I still buy show tickets in a physical shop. There's a buzz to it. Mail order is for suburban curtain twitchers and thermal underwear freaks. Online ticketing is a morass of corruption, thievery and misinformation.
In the dull morning we cross the muddy Severn into England in the rain. We rejig the setlist in the van and I email it to the relevant parties, modern tech at its best. After the second song last night I looked to my feet to check the third, but that vital piece of A4 was absent. Panic. First night fuck-up – but a big one for me, nearly all my anxiety dreams being based around the setlist, usually featuring a bunch of songs I've never heard of or can only dimly recall. In the superb White Stripes tour documentary, Under Great White Northern Lights, Jack White abandons any set structure and throws out opening riffs to Meg as he feels them each night. The freedom to do this depends on flexibility and confidence. If you have five people and a bunch of different tunings and set-ups it's almost impossible to do. I've seen Pete Doherty do it with Babyshambles and it involved quite a few meetings at the drum riser between songs. If you're way down the line and completely across the material, brimming with confidence and slick at the changes you can do it. The jury is out on whether it makes for a better show. We've gone off script in the past (taken a request, thrown in an oldie) and it doesn't always work. Audiences love spontaneity but not if it leads to a dead end. Setlists are a map out of trouble.
The navigation software takes us off the motorway through Epping Forest, the rain now constant with a few puddles forming on the blacktop. We pass through affluent looking villages with new-builds around their edges, every one with garage. Hedges are neatly clipped, ornamental trees perfectly pruned. Driveways look like car salesroom forecourts. I look up Southend-on-Sea's Wikipedia page and see the Horrors used to run a psych rock club there. The list of prominent people is uninspiring. I vaguely remember playing there in the 1980s.* It was winter and bleak. There was a film crew in town shooting a gritty drama in the faded kitsch of the seaside gone to seed. I played video games in an empty arcade and drank beer on the beach at midnight, the sea nothing but a black screen, hardly a sound from the tide.
After a brief soundcheck I throw down some grub and take to the town, descending pretty crazy-paving steps to the waterfront promenade. I turn right and head into the western sun. Thirty metres offshore a swimmer makes a perfect V-shape in her wake. The estuary water is still and flat, human heads poke out of its tabletop like pink warts on silver skin. I pass a young couple attired in the finery of orthodox Jewry with a gaggle of smartly dressed kids in tow. The horizon is rimmed by a low cloud front looming like a gigantic forest at an impossible distance. Joggers and scooter girls flow past. A man with a Northern Irish accent takes his toddler daughter paddling. Canoeists and kayakers slip through the briny, glinting in the rays cast by the sinking sun. It's looking like it could be cracking sunset so as always I wait for the inevitable bathetic conclusion. Perhaps I shall fart at the most Turneresque moment.
Returning to base I allow myself a rum 'n' raisin scoop from Rossi's, the local ice cream outlet. Armed with a scintilla of the place's character I climb the steep steps to the Cliffs Pavilion Palace Theatre, as if ascending the scaffold, ready to face the crowd.
This may have been Clacton-on-Sea, further up the Essex coast.