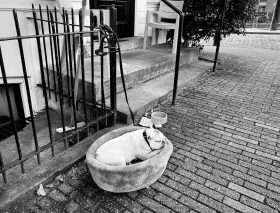 In Amsterdam
8th September, 2022
There's a milky green canal two feet from the door of the bus. I edge tentatively along its edge and head out into early autumn sunshine. I find myself in familiar places, the American Hotel, the ornate town hall. The Dels spent two freezing days here in February 1992, shooting for the Change Everything album sleeve with tall-drink-of-water American, Kevin Westenberg. It was here I discovered my first grey hair, a single long wire that I had David Cummings pluck out immediately. I remember swallowing a bit of hash when we wrapped and travelling home in cruise class. Bshzzzzzzzzz….
I take a table at a corner café to hoover up eggs, crispy bacon, OJ and tea. I'm on Tweede Weteringdwars Straat. Woollen Knickers Street. There's a mild hubbub of tourist tattle in many different tongues. Bicycles stream by and electric delivery vans nudge through cautiously. The background noise is amazingly muted for a big city. A bell from a nearby church tinkles quaintly. It's this chocolate-box-cute place — Venice on Valium. As I go indoors to use the toilet I recognise it as the place where decades ago I sat with a beer and watched a table of smokers sitting by an open window — smoking banned but tolerated if indulged responsibly. The calm, clever Dutch. The weird thing with cities you visit infrequently is that you cannot help but retrace your steps. Your body just takes you back. You have to deliberately make a beeline to a new location to break the pattern.
It's a long soundcheck so I run out at six to get food down me in time to digest before the show. It's a beautiful evening and I duck into a Japanese place off a square. There are a few football fans milling, mainly supporters of local side Ajax who are playing Glasgow Rangers International in the Champions League tonight. The Rangers fans must be congregating elsewhere. I eat my skewered meat too quickly. The first time I ever ate Japanese, Iain and I were taken out to a nobby place in Kensington by A&M's head of international, a middle-aged woman who advised us on protocol (incorrectly as it turned out). At one point I tried to remove a chunk of chicken from the middle of its thin wooden skewer using my chopsticks. It refused to budge until it suddenly flew off at an alarming speed, arcing through the air to land neatly in a businessman's lap on the opposite table. He was very nice about it. The chicken was not returned.
The Dutch are tall and tanned and look richly healthy and quietly rich. They traverse these crowded streets serene and aloof. The mass of clownish tourists must drive them mad but they don't show it. If you catch their eye they evince a smithereen of smugness, as if they know something about you that you don't know yourself. They are ever so slightly amused.
Back on the balmy streets I hear crowds cheering from pub TVs and realise that the Ajax match has kicked off early, explaining the dearth of Rangers fans in town. Back at the gig there's a long excitable queue of twenty-somethings snaking up the block. I immediately twig there must be another act on in the same building. It's a long time since there were excitable queues outside our shows. Afterwards I go marching around again in vague search of street food but I walk in the wrong direction and get caught in the rain. Warm, kindly rain but rain nonetheless. I eventually find a wok place and am served by an English guy who, on hearing my accent, asks if I'm here for the Rangers game. I tell him I'm with a band and besides, I support Celtic. So do I, he says. I give him the thumbs up and go looking for the bus. There are crowds of the young, full of promise and privilege, braying outside bars. But that's just the bitter envy of old age for I was once one of these. Cyclists sizzle on the slick lanes. Amsterdam is easing into Thursday morning and a fresh onslaught of visitors. The canals shimmer in the light from the quaint street lamps and ripple lightly in the falling rain.