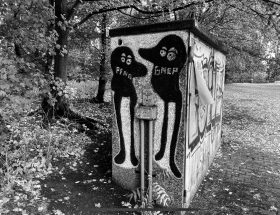 Frankfurt
9th September, 2022
I peer out of the back lounge window. Dark clouds torn and tattered stir around the sky. Downstairs I discover that we had a blow out on the trailer last night, sparks flying off the wheel rim, truckers honking warning. Simon and Buddy managed to get the spare on in what must have been trying circumstances. Most of us slept through it all. I go up an exterior industrial spiral staircase to our dressing suite. At the top I survey the area. Factories, warehouses, heaps of rubble, a wooded hill with houses. I meander through roadworks to a thickly forested park where I sit in a brief patch of sunshine opposite a pristine football pitch. It's spookily quiet for a lunchtime. I can hear city traffic at the end of a long straight path and I head into its promise and the possibility of lunch somewhere. Promise of civilisation vanishes at the end of the trail where I see the noise is coming from a motorway flyover. I take a pedestrian route below, alongside a huge railway yard full of rusting goods carriages full of rocks and gravel. I pass a row of lush allotments before coming upon more deserted football fields. At a bench I see a red squirrel, a cute little fuckrat. The American Greys have seemingly not established dominance here. There are acorns underfoot and I watch a scarlet aphid hunt amongst leaf mulch. I notice a single jigsaw piece and I turn it over. It is grey and blank on both sides. The bench is tagged with pink and black graffiti. I saunter on. In a few hundred metres I reach a large pond, weeping willows hunched around its rim like hippies hanging heads over a mirror. Just beyond — salvation! — is a kiosk where a friendly man offers me bindwurst and tea for 4 Euros. I sit at a trestle table under a big chestnut tree. The large flat lawn beyond is patched yellow from the summer heatwave. A flock of geese waddle in the distance. The kiosk clientele are a mix of affluent looking locals and itinerant older men. My wurst arrives, a long dangler clamped in the mouth of a little round brot, smears of mustard and ketchup on the card tray. I see from the map I'm in Ostpark, east of the centre. Galvanised by the cheap calories I decide to go a little further before turning back for the venue. But there is little to find. After a brief detour through a suburban neighbourhood I come to a mothballed funfair and take it as my cue to turn tail.
Inside the venue, Batchkapp I have a flashback to our long tour in 1986 opening for Lloyd Cole and the Commotions. It was the coldest February in Europe for 40 years and the Commotions truck came off the road in eastern France. That was the beginning of the period between the first album and Waking Hours when we started sounding a bit more American and learned to entertain bigger bands' audiences by moving about a lot. Like dicks. Selling out in other words. Thank fuck we did.
After the show the opening act, The Whitmore Sisters (pals from the US) and the rest of us sit on deckchairs under a canopy in the warm night. A fat yellow moon observes from behind trees like a jaundiced eye. We tell stories as if around a campfire. The circus moves on.