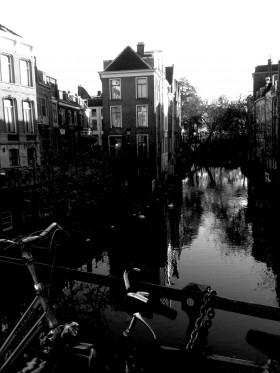 Frankfurt to Amsterdam
17th November, 2010
Back to the Kingdom of Fright
The Galaxy is pointed north to Amsterdam, from where sail shall be set home. The palpable kick-back of Holland comes upon me like a psalm. Those quietly fuming German men in their powerful cars, spinning past us like mad wolves are a thing of memory. It is suggested that we stop into Utrecht, and we do, and it's worth it. I buy a trinket, and have a wonderful coffee, accompanied by a quality biscuit. A still canal laces it's elegant way through my street. A stoner approaches me for emergency advice on the nearest available Coffee Shop. I shrug and dismiss him rudely but watch as the next Dutch guy attends to him, removes his headphones and gives a detailed description of the available outlets. This is heaven compared to home.
But maybe I judge too harshly. After all, is Britain not the country which produced Shakespeare, Austen, Darwin and those Rolling Stones? Chris Morris, Viz and Lindsay Anderson? Blah, blah, blah. And Cheryl Cole, Norman Tebbit  and Ian Paisley Junior.
The ship, even larger than the outbound one, ploughs a fine furrow through the cool, flat North Sea. A half moon illuminates an arrowhead of silver and the horizon is sporadically strung with glinting oil rigs. I take in the entertainment and it is what is to be expected. No more and perhaps a lot, lot less. I watch the solo guy drag out his show in the "Navigator's Bar" in front of the available few witnesses and feel a mixture of pity and displeasure. He throws in jokes, hollowly, to an empty-headed crew on a lonely sea. I send out my usual holler: the one that says, I'm with you, brother. But I am too reticent and underwhelmed and besides, this is no place for a
musician to graft, unless they sold their souls on land long, long ago. Like me.
All events considered, except weddings (the bride's always indecisive).
Blow-outs, initiation ceremonies, birthdays.
Wakes, openings, burials.
Away-days, picnics, circumcisions, jihad get-togethers, staff training sessions, coming-out events.
00778 910 2670  (after six o'clock)